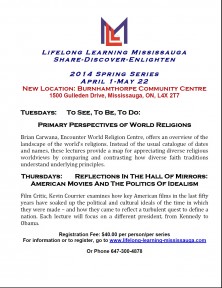 About Lifelong Learning Mississauga
Lifelong Learning Mississauga is a non-profit organization formed in 2012 to engage older adults in continuous learning. We offer informative and affordable lecture series and workshops on a wide range of themes and topics, including academic and general interest. Lectures are led by recognized leaders in their field of study in a relaxed social atmosphere during day time hours.
SHARE – DISCOVER – ENLIGHTEN
For more information, click here.