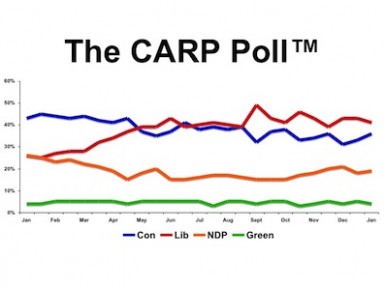 Key Findings

April 7, 2014: The vast majority of CARP members disapprove of the provisions of the Fair Elections Act when they are described to them (80%), and fully two thirds disapprove strongly (63%).
Furthermore, a similarly overwhelming number of members say the Act will diminish democracy (79%), and, once again, fully two thirds say it will diminish democracy a great deal (62%).
When asked if the measures in the bill will mostly reduce voter fraud or mostly reduce turnout, four times as many say turnout will suffer (63%) as say fraud will be prevented (15%), and fully three quarters say the provision banning vouching as a form of voter ID will create barriers to voting (75%).
The effect of the Fair Elections Act on CARP support for the government has been catastrophic. Electoral preference for the Conservatives, relatively steady at 33% two weeks ago, has tumbled to 26% now, putting them close to third place.
In contrast, support for the Liberals has soared from a relatively slim lead of 36% two weeks ago to more than half today (52%), a record high for the Liberals since we began polling CARP members, and a record low for the Conservatives. This is a demonstration of the importance CARP members attach to their franchise.
Electoral Preference

The Liberals have increased their share among decided voters dramatically from 36% to 52%, a new high in our 6 years of polling, while the Conservatives have tumbled from 33% to 26%, a new low for them. The NDP is in third place with 17% of the vote