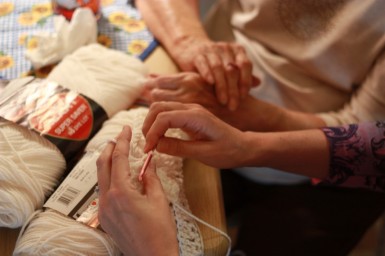 Risk. Its a dirty word in the nursing home industry, and in the face of recent and high-profile incidents like deadly fires, assaults on residents by other residents and allegations of abuse governments and nursing homes are turning to extreme measures to try to reduce risk and calm public concerns.
You'll have to wait for a staff member to take you down dear, hold on a minute. This was the reminder I was given as I was about to take the elevator in the nursing home I was living in. Id arrived a few days earlier, living as a full-time resident as part of a research project to get first-hand experience of what life in a nursing home feels like, and the staff were treating me accordingly.
So I waited. I watched the staff speed-walk between rooms providing medications and answering the incessant beeping of call bells. I also watched the residents, many asleep in their wheelchairs by the communal television, some with seatbelts and others with alarms attached that go off if the resident attempts to stand, or worse, risks a fall.
This article was published by The Globe and Mail on March 23rd, 2014.
To see this article and other related articles on their website, please click here
I had missed the scheduled communal breakfast that morning, so breakfast in bed was suggested. However, my room was not equipped with a seat and tray, so in keeping with regulation, I ate breakfast at a table in the lounge. A staff member hovered around me the entire time. While I do love company, I am admittedly not a morning person, especially without caffeine (as my body was shocked to discover, I was told caffeinated drinks and alcohol are discouraged in my nursing home). So why did a staff member need to watch me eat? To reduce the risk of choking.
Its a poignant reminder of the daily challenges staff and residents at every nursing home face. They are also part of a theme that played into almost every aspect of my stay: How do you balance safety with autonomy for residents?
Safety is clearly important; often people move to nursing homes precisely because they can no longer manage living without 24-hour care. At the same time, this tightrope balance invokes the fear paramount in most peoples mind when they think about institutional living losing their autonomy, not choking on breakfast.
The regulations for long-term care in most provinces prioritize medical needs and safety over autonomy. Public reporting of quality indicators at long-term care homes include safety as one of five attributes of a high-performing system but autonomy is not considered.
The fundamental principle laid out at the beginning of The Long-Term Care Act, 2007, in Ontario is that a long-term care facility is primarily the home of its residents and is to be operated so that it is a place where its residents may live with dignity and in security, safety and comfort. Then follows a dizzying list of regulations that would imply anything but. For example, nutritional care specifies congregate dining settings monitored during the entire meal, specific positioning, appropriate height of seating and meal times. There are 480 safety standards that homes must monitor daily.
At my home, Ive spent more meals than I care to remember seated on my bed, alone, with my laptop in front of me. While that may not be safe, it is my decision.
After all, we take these calculated risks every day: slicing bread, crossing the street, staying up late. Suddenly being regarded as unable to make decisions you've made all your life contributes to a feeling of dis-empowerment. In our attempt to remove all risk in nursing homes we have ended up with regulations that are so extreme that residents may no longer have autonomy or feel at home.
There is, after all, a big difference in risk between a person with dementia wandering from a nursing home and the same person drinking caffeine.
Safety concerns mean that Liza (not her real name), an avid knitter, could not keep her knitting needles or scissors in the room she shares with another resident. I guess they're worried that if I get angry Ill hit someone with it. I would never do that, they know that. But then, if I have my scissors, other people would want it too she explains.
For residents of nursing homes to experience a home-like environment and more autonomy may require an increased tolerance for calculated risk. Similar to living wills in which a person can specify the kind of medical action they would like taken for a future situation when they are unable to express their wish (for example, do not resuscitate), perhaps we need to consider parallel living environments.
Many of the new models of long-term care homes coming out of Europe have embraced this concept of calculated risk. The much lauded dementia village Hogeweyk in the Netherlands includes a theatre, restaurants and supermarket. Residents live in a secure village, but can wander at will, not necessarily following a set routine, making purchases, attending social engagements and shelling peas if they so wish. Safety is maintained as Hogeweyk is a secure, gated community and staff are available throughout the village to provide assistance. But patient autonomy is also protected, as residents can continue living as they had before their illness.
Denmark also focuses on autonomy. Nursing homes there are truly run as homes rather than institutions, with the result that residents become family. One facility of 23 residents, 70 per cent of whom have dementia, takes Caribbean vacations together. Imagine the risk.
We must rethink our approach to managing risk in nursing homes, especially when doing so means limiting residents freedom to choose their own way.
One writer described a nursing home in Denmark as a place where old people could drink, laugh and love themselves into death. When I have to go back to a nursing home, that's where I want to go.
Saskia Sivananthan is a researcher in senior health care policy at the UBC Centre for Health Services and Policy Research.