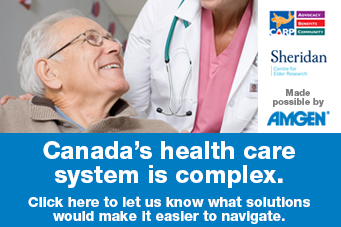 CARP and the Centre for Elder Research at Sheridan College, with the support of AMGEN are investigating the complexities of Patient Navigation of the health care system in Canada. From Province to Province, from Urban to Rural, we'd like your input on issues facing baby boomers who find themselves dealing with medical issues for themselves or family members.
Please take sometime to go through this indepth "choicebook" and let us know your thoughts on the different scenarios presented for patients, family members and caregivers navigating the waters of the healthcare system in Canada.
Your participation will help inform our research as we work on a tool to help Canadians better navigate our complex system.
Click here to participate in the survey
Thank you,
Anthony Quinn
Director, Community Development