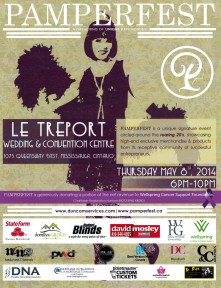 Pamperfest Mississauga A Gathering of Unique Experiences
Pamperfest Mississauga promotes small businesses or entrepreneurs from their respective communities, with an opportunity to showcase their products and/or services in an elegant upscale atmosphere. The vendors provide guests with an opportunity to indulge, relax and pamper themselves at this exclusive shopping event.
Pamperfest Mississauga will be held at Le Treport Wedding and Convention Centre, 1075 Queensway East, Mississauga, Thursday, May 8, 2014, 6:00 pm – 10:00 pm.
Click here for tickets or call Cruise Holidays | Luxury Travel Boutique 905-602-6566 [email protected]
Cruise Holidays | Luxury Travel Boutique is a cruise travel agency in the Mississauga, Etobicoke, Brampton, Toronto area.