CARP Edmontons AGM, on May 2 2014, was a fun and informative event. We reviewed the accomplishments of the past year with over 90 of our members, and also welcomed Susan Eng and Sarah Park from CARP Advocacy. Susan Eng, VP CARP Advocacy, reassured our members that we are, indeed, an important part of the CARP organization. Susan reminded us that it is vital for CARP to have a strong and active network of chapters throughout the country to support and advance CARP's mission and to facilitate the lines of communication between the national office and local members.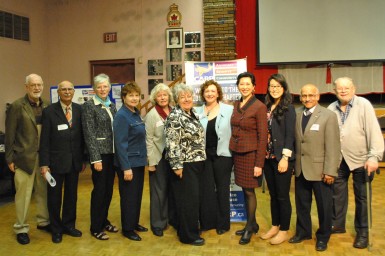 At an Economic Club of Canada event in Toronto a few weeks prior, Susan had met Finance Minister Doug Horner, and arranged an Edmonton meeting between herself, Minister Horner, and representatives of CARP Edmonton and CARP Calgary. During that meeting we discussed pension caps and learned more about the consultation process that the department had announced a few days earlier. Since that time the pension cap issue has been stayed, but will be resurrected by all parties of the legislature later this year. This issue is important to CARP, and we will continue maintain focus and address it as part of the consultation process. Susan and CARP Alberta representatives also met with Associate Minister of Seniors, Dave Quest, where we gathered details on the role of new Seniors Advocate established April 1. We will need to be vigilant as to the positions effectiveness, and advocate for change as needed.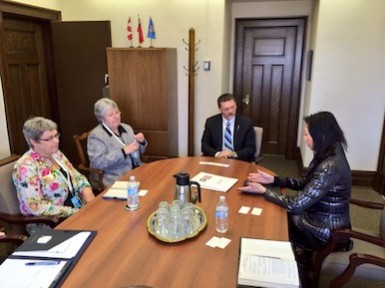 CARP Edmonton uses several communication strategies, including the usual submission letters and reports to consultation papers, to express our concerns and recommendations for improvement. We have established relationships with other local senior advocacy groups to develop clear, consistent messages on issues of common concern. CARPs 11,000 Alberta members, plus thousands of members from other like-minded groups, remind the government that the most active voters can and will influence future election results.
We used a more fun-oriented tactic on Grandparents Day at the legislature in September to illustrate our concern for the lack of LTC beds. A three-legged walker race to the last LTC bed took place near the Legislature steps. CARP won, and a point was made.
In a more dramatic demonstration of our concerns, a sit in was needed to secure a meeting with the Minister of Health to discuss proposed changes to the Seniors Drug Benefit in the 2013 Spring Budget. While we shared the goal to create an effective pharmacare program for everyone, we were concerned that the governments plan to create an income/means-testing program would be unfair and create unnecessary burden for those with the highest medical needs. We receive no answer to our requests to Alberta Health for program details and our offer to participate in the consultation process.
As 9 months passed with no new information and the implementation date of January 1 2014 quickly approached, our concerns grew. Frustrated by the lack of response from government, the groups attempted to meet the Minister in his constituency office. The group sat in for more than 12 hours while the media reported on the quiet, respectful demonstration, until the Minister finally agreed to a meeting with the 18 representative groups in February. Later that month, the Minister announced that income based testing would be taken off the table.
Alberta Health has announced that they intend to move forward with the objective of consolidating the 18 publicly funded drug plans. A consultation process is promised, and CARP plans to play an active role.
CARP Edmonton is pleased that the Alberta government appears to have heard some of our concerns. There are many issues still to be resolved that require our membership to stay active in advocating for financial security, freedom from discrimination and equitable access to quality health care.