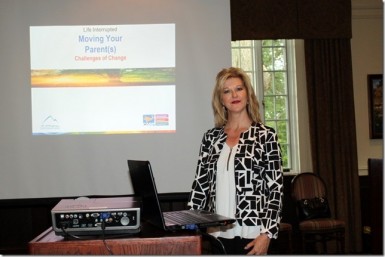 CARP ETOBICOKE PRESENTATION – St. George's Golf Club.
LIFE INTERRUPTED – MOVING YOUR PARENTS.
Challenges of Change – from independence to living in a residence for seniors.
Most people thrive on routine, so a move to a residence for seniors can feel like complete upheaval for the whole family. This session provided tips on keeping your cool while confronting the difficult task of transitioning your parent(s). Itopened the conversation for discovery and left you with helpful strategies as you live through this change with your parents.
On July 16th, Laurie Martin of Life Interrupted spoke about:
Finding clarity – the right timing (helpful steps to mental wellbeing)
Living with yourself before, during and after the move
Keeping your cool and sanity
Psychology of moving – understand yourself during this emotional time
Maintaining the senior's dignity and your relationship
Staying focused while providing care and support
Reducing high conflict situations
Laurie is an Elder Planning Counsellor, author, life strategist and mediator, crisis educator and responder, and professional speaker who educates and empowers others through customized talks, training, planning and coaching. She teaches people to be comfortable and extraordinary when faced with the most uncomfortable and extraordinary situations.
CARP Chair, Gary Hepworth, followed Laurie's presentation by summarizing what the retirement home and long term care options were in Etobicoke and how to go about selecting one.
Thanks toSt. George's Golf and Country Club for hosting the event.