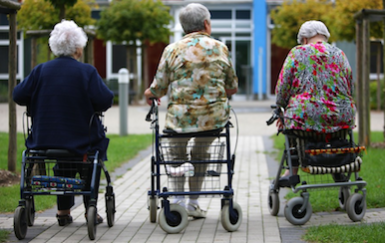 Key Findings – Age-Friendly Environments

June 27, 2014: The plurality of CARP members live in medium sized cities, and the vast majority find them age-friendly (although most just say "somewhat" age-friendly). Items that would improve the age-friendliness of their environments include housing, both accessible and affordable, more political inclusion and better transit.
The minority has encountered barriers to social engagement based on ageism, and most think it easier to stay engaged in small towns or rural areas, rather than in cities. The lack of more age-friendly policies is blamed on political shortsightedness and other priorities on cities' agendas.
Convenient health facilities, grocery shopping and seniors' centres are seen as the most important elements of an age-friendly community, but most say they wouldn't be more socially engaged than they are now if their environment were more age-friendly. Half say their local governments are aware of the need to include seniors in planning, but few say they are "very aware".
The wide majority would take the age-friendliness of an environment into consideration if they moved, and most see this age-friendliness being influenced and motivated by national standards for infrastructure, targeted funding for government projects and including age in all environmental assessments. Given all this however, most see the services in their communities as "somewhat accessible". Reinforcing this, most say their quality of life is not affected by the age-friendliness of their environment, because they make their own environments.
Assisted Death
The wide majority agrees with the Quebec legislation allowing assisted death, and this is entirely consistent with all our past polling on assisted suicide.