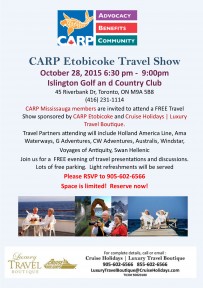 CARP Mississauga members invited to a Free Travel Show presented by CARP Etobicoke and Cruise Holidays | Luxury Travel Boutique on Tuesday, October 28, 2014 at the Islington Golf and Country Club from 6:30 – 9:00 pm. (45 Riverbank Dr, Toronto).
In addition to Cruise Holidays | Luxury Travel Boutique, there will be a number of cruise lines and tour operators giving a short presentation and handing out information. The travel companies will include Holland America Lines, Windstar Cruises, Voyages of Antiquity, Swan Hellenic, Ama Waterways, Australis, G Adventures and Country Walkers (CW Adventures).
Come and join CARP Etobicoke members for an evening of travel information and presentations. Meet and mingle with CARP Etobicoke members at the clubhouse of an exclusive private members golf club.
Learn about new destinations and tours and plan your next cruise or land vacation. Light refreshments will be served and there is lots of free parking.
CARP Mississauga Members, please RSVP to Lola at Cruise Holidays | Luxury Travel Boutique at 905-602-6566 or email [email protected] Space is limited so book early.
Cruise Holidays | Luxury Travel Boutique is a luxury cruise and travel agency based in the Mississauga, Etobicoke, Brampton, Toronto, Ontario region serving clients anywhere in Canada and the US. Visit our website, facebook page or our office at 5160 Explorer Drive, Suite 38, Mississauga, L4W 4T7. Or call us at 905-602-6566, 855-602-6566 or email [email protected] Cruise Holidays | Luxury Travel Boutique is registered with the Travel Industry Council of Ontario. TICO# 50020180