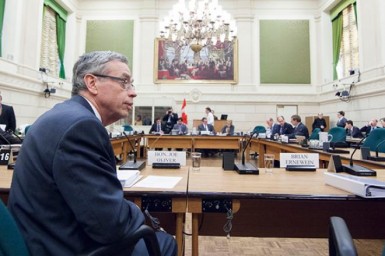 Editor's Note: The following article was published in The Hill Times on August 18th, 2014. The article outlines some of the major asks that are being made on behalf of interested parties and groups of citizens but speculates that the Government will not move on this request and focus instead on personal income tax reduction measures. CARP and the Canadian Medical Association's proposals are given quite a bit of prominence, (see excerpt below):
Mr. Oliver said the government will focus on "reducing taxes to individuals" and "look at individual areas where prudent spending will be appropriate" with what could be more than $9-billion in surplus to play with in 2015, including a $3-billion security cushion.
Still, that doesn't mean groups aren't trying to squeeze what money they can from Ottawa's coffers. Some are also using the looming election, and the fact that this is last budget before Canadians go to the polls, as a way to leverage their asks.
Seniors advocacy group CARP's submission calls for the creation of a universal pension plan, restoring traditional Old Age Security (OAS) eligibility, developing employment strategy for seniors, and lifting seniors out of poverty, while the Canadian Medical Association called for a national seniors strategy.
"We have a survey that goes out to our members every two weeks," CARP's vice-president of advocacy Susan Eng told The Hill Times, and CARP's members consistently express concern over the issues outlined in the pre-budget submissions. "One of the questions we always ask at the end of the survey is, 'If there were a federal election tomorrow, how would you vote?'"
Ms. Eng said CARP's members' support for the Conservative Party dropped dramatically after the government announced it would make changes to OAS eligibility in 2012, according to CARP's surveys, which she clarified aren't scientifically conducted polls. Nonetheless, said Ms. Eng, the surveys show that these issues "are ballot issues and that any politicians who choose to ignore them" are "doing so at their own peril."
CARP's surveys put the Liberals on top with the most support, followed by the Conservatives and NDP.