CMA General Council – Physicians' Changing Views on End-of-Life Care
CARP attended the Canadian Medical Association's annual General Council meeting in Ottawa that gathered physicians from across the country on August 17th-18th. End-of-life care was one the featured topics at the General Council, providing an in-depth discussion that revealed the changing perspectives of physicians across Canada. Although the CMA's policy states that Canadian physicians should not participate in euthanasia or assisted suicide, two-thirds of the physician delegates agreed that CMA's policy should be revised when a live poll was taken place at the meeting. Physicians expressed different views and concerns around medically assisted death as well as the need for more palliative care. CARP looks forward to discussing this further at CARP's upcoming end-of-life forum on September 26, which CMA's new president Dr. Chris Simpson will join along with other panel guests (more details to come).
Minister Rona Ambrose becomes an Honourary CARP member
CARP met with Minister Rona Ambrose, Minister of Health, and made her an honourary CARP member. CARP encouraged the Minister to address seniors' health issues and emphasized the need for federal leadership to create a national seniors' care strategy. CARP specifically recommended more support for caregivers by expanding the EI Compassionate Care benefit to include those providing heavy care and not only those caring for the terminally ill and to make the Family Caregiver Tax Credit refundable. CARP also emphasized that while research in dementia is important, there is a great need for direct supports and resources for families that are dealing with dementia now. In addition to making the Minister an honourary CARP member, CARP invited the Minister Ambrose to address CARP members in a future issue of the newsletter.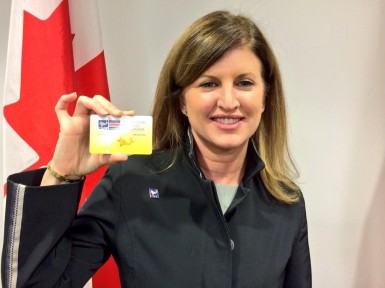 CARP talks pensions and health care with Trudeau's and Mulcair's Offices
CARP visited Parliament Hill while in Ottawa and met with the offices of Mr. Thomas Mulcair, Leader of the Official Opposition, and Mr. Justin Trudeau. Although both party leaders were not in Ottawa, CARP met with their staff and advised them on various policy issues, particularly those in CARP's recent pre-budget submission. CARP made recommendations to strengthen retirement security, such as increasing income supports especially for single seniors, increasing the CPP and/or creating a new universal pension plan, and eliminating mandatory RRIF withdrawals. CARP also recommended that the parties have comprehensive health care policies that address the needs of the aging population, such as national standards, equitable access to quality care, and adequate supports to address end-of-life care and dementia care.
Mr. Thomas Mulcair delivered a speech at the CMA General Council where he mentioned the CARP and CMA's joint initiative to advocate for a national seniors strategy. Read his speech here.
CARP welcomes several new Honourary CARP members
In addition to Minister Ambrose, CARP welcomed two other new Honourary CARP members, MP Libby Davies and CMA's new President Dr. Chris Simpson. You can view all other honourary CARP members through by following us on Twitter @CARPadvocacy.