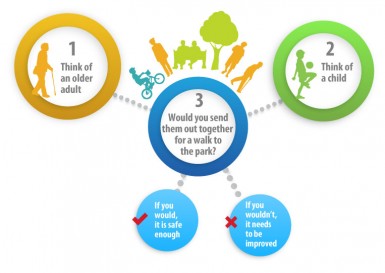 Imagine if everything we did in our cities was great for 8 year olds and 80 year olds; we would have good communities for all, 0 100. We need to stop building cities as if everyone was 30 year old and athletic and build them for all.
This is the basic premise of 8-80 Cities, a non-profit organization based in Toronto, Canada. We are dedicated to contributing to the transformation of cities into places where people can walk, ride a bicycle, access public transit and visit vibrant parks and public places. We consider these means as our ends are to collaborate in the creation of successful cities and healthy communities where citizens will live happier enjoying their parks and other amazing public spaces.
Our approach is to engage citizens at all levels and across multiple sectors to inspire the making of cities that are easily accessible, safe and enjoyable for all, regardless of the social, economic or ethnic background.
We have worked on diverse projects in over 180 different cities in all continents, including more than 30 across Canada.

Older Adults: a new reality but no reason not to be ready
Of all people that have ever lived to be 65 and older, half are alive today. It was only 150 years ago that the average life expectancy in Canada was just 40 years; today its over 81. We have doubled our life expectancy, we seemed to have learned how to survive but considering current problems of climate change, traffic congestion, public health crisis, economic crisis, etc., its obvious that now we need to learn how to live.
Canadians who base their mobility on the private car spend more than 1 of every 4 dollars of their income on that mobility; no wonder there is not enough money for vacations, education, retirement or even to go out to dinner with the family. From the point of mobility, we need to be able to walk, bike and take public transit in a manner that is safe, convenient and enjoyable.
We also need to have public parks within walking distance, as they contribute to improve our physical and mental health. Cities seem to obtain more easily the millions to build the parks than the thousands to make them work; parks require of good management providing uses and activities throughout the year.
What is our role?
We are committed to working with decision makers and community groups to inspire social change that improves the quality of life of all.
Through inspiring talks and innovative programming we share experiences, best practices and expertise from around the world; sometimes the solutions are infrastructure while others it is about programs and activities.  We are convinced that the solutions to making exciting and healthy communities are not technical or financial; they are political and that is why everyone must be involved.
For more information on 8-80 Cities, visit: http://www.8-80cities.org/
To download the original PDF of this article, please click here