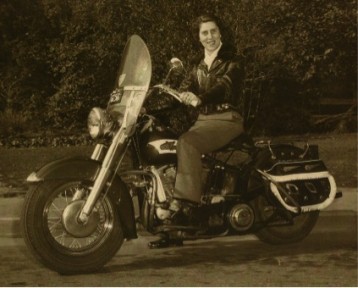 This time I will depart from my regular way of telling stories on chronic pain matters, to pay tribute to a special woman with a remarkable life, though I will still bridge the subject of chronic pain in seniors. I use excerpts from her obituary posted by her family, adding my own memories of her.
Audrey Alexander from Welland ON, passed away peacefully in her sleep on July 9, 2014 in her 86th year.
What is remarkable about Audrey? At the age of 17 years old she started riding Harley-Davidson Motorcycles, remaining a Harley rider for good 50 years. She was the first female member of Skyhawks Motorcycle Club, now the Welland County Motor Club. In 1949 Audrey became the first Canadian member of the Motor Maids. The Motor Maids (for short MMs) is the first all-women motorcycle group founded in 1940 in the USA with the Canadian division founded in 1949. The group consists today of over 1200 fun loving motorcycle female riders across North America, with more than 120 in the Eastern Central District in Canada (where I belong, though I ride with them rarely due to my hectic work schedule). In 2008 Audrey was the first woman inducted into the Canadian Motorcycle Hall of Fame. Audrey leaves behind two sons, 4 grandchildren, and 2 great grandchildren. In her funeral, an MM group of riders in full uniform paid respect to Audrey, with two wheels accompanying her to her last place of rest. A donation on behalf of The Eastern Canada Motor Maids was made to the Heart & Stroke Foundation as per the family's wishes.
I first met Audrey, a white haired woman who obviously commanded high respect from her fellow MMs, in May 2003 when I joined the MM Club. I wrote about the women I met 4 years ago in an e-CARP paper titled riding with the wind. Several had chronic pain but none was deterred by it (been surgery and unremitting back pain and nerve injury, fibromyalgia, broken bones or arthritis). They all rode, rode to be free of everything, including chronic pain which they tended to forget on the bike.
I cannot get it I told the group back in May 2003, sitting around with many of them in a large table. How come you are here and not in my pain clinic? This encounter prompted the researcher in me to offer to study the group. I was going to ask how many of these women had pain, what did they do for it, did they go to the doctor, did they take medications and so on. I also needed to understand what kind of personalities did these women have and what drove them to riding, a male sport endowed with a fair amount of risk.
Since older women in particular have lots of joint problems, statistics made me estimate that at least 1 in 3 of these women would have chronic pain. A year after the breakfast meeting of May 2003, I posted my request in the MM monthly newsletter asking for the women permission to interview them and have them participate in my study.
My study never got done as there were absolutely no takers except one woman.. a single willing subject, who showed interest in my study! As you might have guessed, this was Audrey. She had serious arthritis in her hands and asked me to do something, so she could use the clutch and the throttle again! She was then good 75 years old, a member of the MMs for nearly 50 good years!
See below a photo below with Audrey as a young woman and then one celebrating her motorcycle career in 2012 (both with permission from her sons).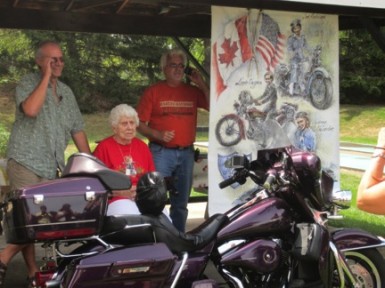 Audrey Alexander, who rode till her very senior years, is in my eyes an inspiration for all of us growing through our silver and golden years.
Angela Mailis Gagnon, MD, MSc, FRCPC(PhysMed)
Director, Comprehensive Pain Program,
Senior Investigator, Krembil Neuroscience Centre
Toronto Western Hospital,
Chair ACTION Ontario www.actionontario.ca