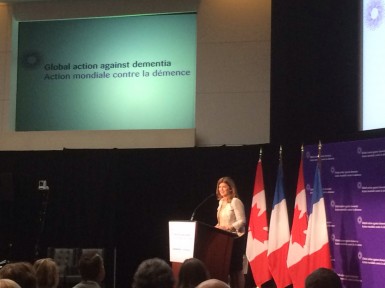 CARP was invited by Minister Rona Ambrose, Minister of Health, to attend the Global Dementia Legacy Event, Global Action Against Dementia, that was co-hosted by Canada and France on September 11-12, 2014. The event brought together 200 global researchers and industry leaders in Ottawa with the goal to explore how to strengthen the synergies between industry and academia. The conference discussions brought to light the various complex challenges and new innovation trends in dementia research, treatments/drugs, and cures from the perspective of industry and academia.
Minister Ambrose made announcements at the event that CARP members will welcome. In addition to research results on neurological conditions in Canada and a the National Dementia Research and Prevention Plan that outlines governments investments and key initiatives, Minister Ambrose announced that the government will be working with the Alzheimer Society of Canada to bring Dementia Friends to Canada in the coming year.
Dementia Friends is a program that aims to make dementia friendly communities and raise public awareness to reduce stigma around the condition. The program does this by helping people understand what it is like to live with dementia and what they can do to help people with dementia, such as helping someone find the right bus or being patient with someone with dementia in checkout line. Individuals can become a Dementia Friend by simply signing up and attending an information session. Originally started in Japan, the UK has also adopted the program 18 months ago and has a goal to reach 1 million Dementia Friends.
Currently in Canada, there are over 750,000 Canadians diagnosed with dementia and it is projected that this number will grow exponentially in the next years. Research is important and needed, but in the absence of an effective treatment and cure, families are grappling now with how they will deal with dementia in their lives. As a result, CARP welcomes an initiative like Dementia Friends as it seeks to help people on the ground deal with the challenges and create a society that is dementia friendly.
Read more and watch videos about Dementia Friends UK.