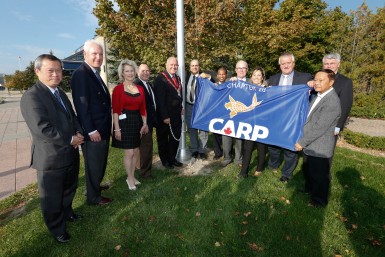 In 2011, the Federal Government declared that October 1st was to be National Seniors Day to pay tribute to the seniors who have helped build our country and continue to make valuable contributions to Canadian communities, workplaces and society.
This October 1st at 4:30 PM at the Markham Civic Centre, CARP Markham-Richmond Hill will be joining other Chapters across Canada from St. Johns to Victoria in a Flag Raising ceremony to commemorate National Seniors Day.
This is a free event.  Please come out and join us in celebrating this great day!  Come network and have fun!
For more information email CARP Markham at [email protected] or call 905-477-5727.
When:  Thursday October 1st, 2015 at 4:30 PM
Location:  Markham Civic Centre -101 Town Centre Blvd, Markham, ON L3R 9W3 (Show on Google Maps)
Topic:  National Seniors Day Flag Raising Ceremony