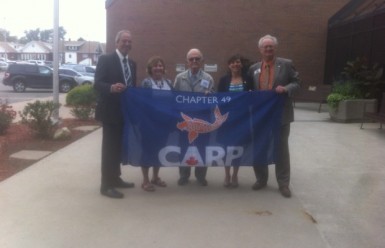 London-St.Thomas
October 1st was National Seniors Day.
A flag raising ceremony took place at the St. Thomas Seniors' Centre on Chestnut Street yesterday afternoon.
Members of CARP were in attendance as they were having an annual meeting at the Seniors' Centre.
CARP is an organization committed to enhancing the quality of life for all Canadians as they age. There are about 300,000 members throughout the country.
Chair of the London-St. Thomas CARP Chapter Dan Procop tells myFM there are a lot of issues the organization advocates for, on behalf on seniors.
Mayor Heather Jackson, Aylmer Mayor Jack Couckuyt, Elgin County Warden and Deputy Mayor Dave Marr were at the flag raising ceremony and expressed the importance of our senior population and all the work they do in the community in volunteering roles.
Click here to read this article and more similar content. 
Chatham-Kent
The Chatham-Kent Civic Centre showed its appreciation for the senior population in a ceremony today.
Its part of National Seniors Day across the country, celebrated every October 1. Municipal staff were joined by members of the Canadian Association of Retired Persons (CARP) to raise the blue flag that will fly over the Centre for the rest of the day.
Susan Bechard is the chairperson for CARP 49, and says this ceremony symbolizes the focus communities should have on an increasingly aging population: So what are we doing going forward to look at that community, and how can we help them better age so theyre healthy in the way that they age.
There are 700 card-carrying members of CARP in Chatham-Kent.