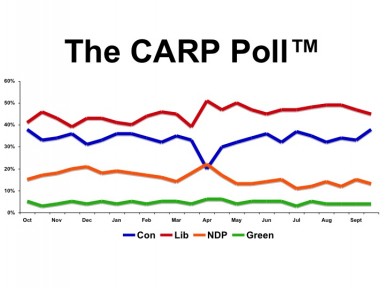 Key Findings
October 3, 2014: Members are evenly distributed across the political spectrum, converging near the centre. They see the defining issues of the Conservatives to be deficit reduction, of the NDP, poverty reduction and of the Liberals, marijuana legalization.
The issue most would like to see discussed at their doorsteps by candidates for office are home care and long term care, as well as CPP expansion and national pharmacare.
Members see the Liberals as the most credible party on seniors issues as well as the party most likely to take CARP's views into consideration when making policy.
May, Trudeau and Mulcair all have the approval of half or more members, while just more than a third approve of Stephen Harper. Harper is seen to be the best at dealing with the economy and at being PM, Trudeau is seen to have the best vision for the country and Mulcair is seen to be the most sensitive to seniors issues.
Electoral Preference
Just less than half of members will vote Liberal if the election were held today, while just more than one third would vote Conservative. One tenth or so will vote NDP.
To view a complete copy of the CARP Municipal Poll Report, complete with tables, please click here – See more at: http://www.carp.ca/2014/09/23/carp-poll-report-pharmacare/#sthash.CiEUvhvF.dpuf
TCPTG12345
TCPTG12345
To view a complete copy of the CARP Municipal Poll Report, complete with tables, please click here TCPTG12345 See more at: http://www.carp.ca/2014/09/11/carp-municipal-poll-report/#sthash.awPIoK5I.dpuf
– See more at: http://www.carp.ca/2014/09/23/carp-poll-report-pharmacare/#sthash.CiEUvhvF.dpuf
TCPTG12345
To view a complete copy of the CARP Municipal Poll Report, complete with tables, please click here TCPTG12345 See more at: http://www.carp.ca/2014/09/11/carp-municipal-poll-report/#sthash.awPIoK5I.dpuf
– See more at: http://www.carp.ca/2014/09/23/carp-poll-report-pharmacare/#sthash.CiEUvhvF.dpuf