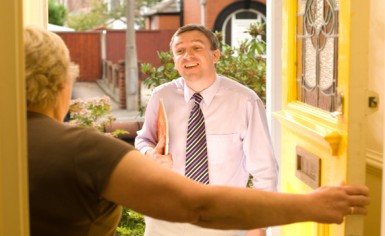 By: Darren MacDonald – Sudbury Northern Life
Sep 30, 2014
To address the problem of seniors being scammed by unscrupulous sales people, local and national groups are looking for ways to get the message out to seniors that they have rights, and they shouldn't be ashamed to admit they have signed something they shouldn't.
Older people falling prey to unscrupulous sales tactics
The persistent problem of aggressive and unscrupulous door-to-door sales people preying on older people is growing as Canada's and Greater Sudbury's population ages.
To address the issue, local and national groups are looking for ways to get the message out to seniors that they have rights, and they shouldn't be ashamed to admit they have signed something they shouldn't.
Hugh Kruzel, who is CARP chair in Greater Sudbury, said some seniors are particularly prey to door-to-door sales. While they are initially skeptical, he said con artists know how to appeal to older Canadians.
All it takes is the right person with that charm and warm, welcoming handshake, and they'll be let into the home multiple times, Kruzel said.
We're acutely aware that there are I don't want to say scams, but some bad, bad behaviour by a lot of people who are thinking they can get away with it. They're squeezing money out of people who have really worked hard to build this country.
And with Sudbury's senior population having growing by 25 per cent over the last 10 years, Kruzel said getting information out is key to protecting older Sudburians, so they know what to do if they feel they have been cheated.
The primary thing for anyone in this situation is contact your lawyer, contact police, the chamber of commerce, the Better Business Bureau and tell them you've been had, he said. And when you contact them, they'll tell you you're not the only one. A lot of people don't want to talk about what happened to them.
Natasha Nystrom, spokesperson with the Financial Consumer Agency of Canada, said the agency is currently working on a national financial education strategy, and a big part of the strategy will focus on senior's issues.
It will include senior abuse power of attorney, joint accounts, that kind of stuff, Nystrom said. And the strategy will be released in mid-October.
Some recent examples of scams mostly involving high-pressure tactics from aggressive salespeople peddling of home energy contracts has prompted a city councillor to create a task force to address the problem.
Ward 12 Coun. Joscelyne Landry-Altmann said she knows of two recent cases where seniors older than 80 were railroaded into signing contracts as long as 15 years.
To see them, honest to God, it breaks your heart, she said. For an 85-year-old to feel ashamed? It's despicable. These people are completely unethical.
While Ontario law gives consumers a 10-day window to get out of such contracts, Landry-Altmann said many seniors are too embarrassed to speak up, or the sales people convince them that law doesn't apply.
They'll tell you and they are very aggressive stuff like, 'We already installed the equipment, so that doesn't apply here,' she said. Which is not true.
We had a case here where the salesperson showed up at noon, and the air conditioner was installed by 1:30. And this fellow was 85, has comprehension difficulties, has cataracts, so he couldn't read the contract.
These people received a furnace and an air conditioner that they didn't want. They didn't even know it was being installed And what's worse, they don't own it. It's a lease. They are now tied up for 15 years. This fellow is 85 years old. What do you think the odds are that this fellow will want to sell his house?
Two weeks ago, Greater Sudbury Police issued a warning about Just Energy, a southern Ontario-based firm that has been using high-pressure tactics at the door even though they don't have a license to operate in Greater Sudbury. Other companies use telemarketing schemes to get private financial information they can use to steal identities.
Landry-Altmann said they plan to work with several groups to help spread the message to seniors as widely as possible.
We'll be communicating with all the seniors groups, and all the vulnerable groups, as well, she said. We'll be developing ways to reach people who are more vulnerable, but don't go to committee meetings. So we'll be doing this through doctor's offices, pharmacies, physiotherapists people who see everybody.
Some good information from the fraud centre on how to spot a scam and what to do if you've been tricked can be found here: www.antifraudcentre-centreantifraude.ca/english/recognizeit_haveibeenscammed.html
Click here to read this article and similar content.