Happy National Seniors Day! On October 1st 2014, CARP Chapters across the country raised CARP flags at their city halls and in their communities to celebrate National Seniors Day. Many chapters invited their local elected leaders and representatives to join the flag raising events to recognize the valuable contributions of older Canadians and the need to improve the quality of life for all Canadians as we age.
The CARP Okanagan Valley Chapter welcomed BC Premier Christy Clark at their event An Afternoon of Elegance, Fashion and Music in honour of International Day of Older Persons in collaboration with the Sparking Hill Resort in Kelowna, BC. Susan Eng, VP Advocacy, also joined the Chapters event as the featured speaker.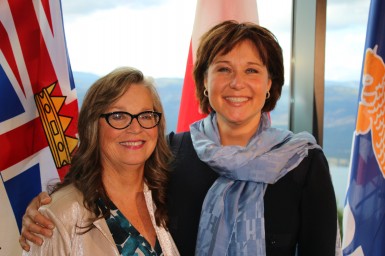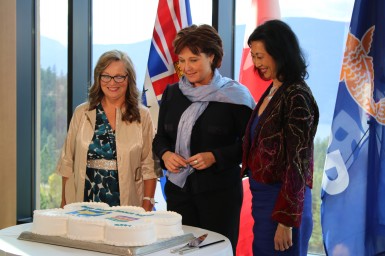 Several chapters flag raising events were covered in the media, providing great coverage of CARP's work and the importance of aging Canadians in their communities. CARP's London-St. Thomas Chapter event joined by their mayor and deputy mayor were covered in their local paper.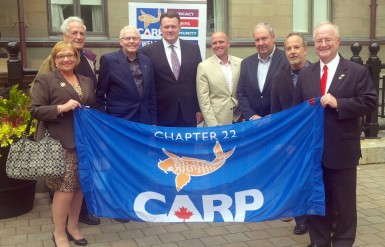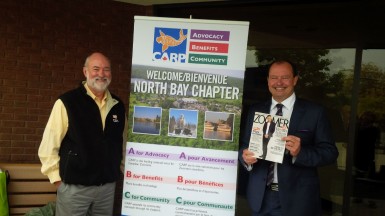 CARP National celebrated with the Downtown Toronto, Scarborough, North York, and Etobicoke Chapters by raising CARP's flag at Toronto's City Hall. The Hon. Charles Sousa, Ontario Minister of Finance, and the Hon. Mario Sergio, Ontario Minister Responsible for Seniors, joined the event along with mayoral candidates, Doug Ford, John Tory, and Olivia Chow. Each gave an address that commended CARP's contribution to Canadians:
"The fact of the matter is, the contributions that CARP makes to society still today is not only for themselves, because what is special about CARP and its members is that they are advocating for the needs of the future generations.
I know this first hand because we have been talking a lot about Ontario Retirement Pension Plan and it was CARP who led that discussion, it was CARP who stood tall, noting that it wasn't in their benefit but in the benefit of those 20, 30, 40 years from now. This is why CARP is so special. This is why seniors are so special. We will do everything we can to support our seniors, but they are still looking after us. And I appreciate their advocacy, their clear voice and how they are looking for the well-being of others. They are talking about security, but they are talking about future and they are noting that we need to do better. They are talking about ensuring that we are competitive as a society, but we remain compassionate. That we are not only talking about prosperity today, but we are looking at fairness for the ones most vulnerable. CARP and our seniors continue to do just that. – Minister Charles Sousa
"Acknowledge and thank CARP for hosting this flag raising event today, it gives us an opportunity to recognize a life time of contributions made by seniors throughout our nation. As an organization, CARP is a terrific advocate for seniors across Canada and I would like to thank you most of all for your continued effort and for your support on a number of provincial initiatives, including Ontario Retirement Pension Plan, so thank you.
I look forward to work with CARP in future initiatives and will continue to be a strong advocate for seniors across Ontario and at the cabinet table as well. It is my desire and I know it is yours too to make Ontario the best place to age. I wish all of you a Happy National Seniors Day." Minister Mario Sergio