Premier Christy Clark talks to Rita Milne at the Canadian Association of Retired Persons National Seniors Day celebration Wednesday at Sparkling Hill Resort.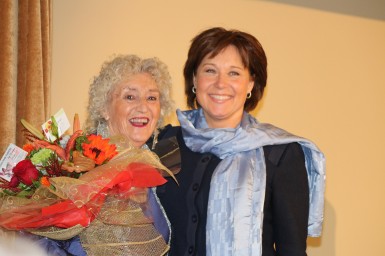 No ones getting any younger, herself included, Premier Christy Clark admitted as she celebrated National Seniors Day in Vernon Wednesday.
In fact: By 2030, one in four British Columbians will be a senior, including me, said Clark as she spoke to the Canadian Association of Retired Persons Okanagan chapter at Sparkling Hill Resort.
As I age, I think differently about being a senior, differently than when I was young, said Clark, who wants to be as active as her grandmother was when she died.
The world has changed as we get older and governments, said Clark, need to be aware of these changes and be forward thinking.
Our building codes, the way we plan cities and traffic.
But she also reminded seniors that they play a key role in the future.
Seniors should not expect society to look after them unless they are looking after themselves and the ones they love, their neighbours and friends, Clark urged those attending the meeting.
And the role seniors play in society will continue through future generations.
Hearing your voice is vital, said Clark.
When we are gone and its in their hands to look after this place, heaven forbid they dont have the lessons weve passed on.
Clark also spoke about how the Okanagan Valley is a hub for people across the country, including many retirees.
As a result, the local economy based primarily on tourism, retirement and agriculture, but that has created challenges for families who are unable to live and work here.
We need to help diversity this economy, said Clark.
I would argue thats through the technology sector. This could become a hub for technology and innovation. That could attract jobs.
The provincial government announced in July a commitment to invest up to $6 million toward the development of the new state-of-the-art Okanagan Centre for Innovation.
Click here to read this article and more similar content.