Premier Christy Clark was in the Okanagan this week to celebrate seniors in our community.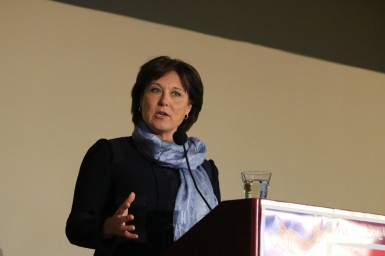 One in four British Columbians is going to be seniors by 2030. I know as a government we have to be forward thinking, says Clark who notes the government preparing for the future.
How do we accommodate that in our aging society? Building codes need to be changed and looked at, the way we operate traffic and stop lights needs to be looked at, sidewalks and accessibility needs to be looked at. There is a huge range of changes that this government has to be in front of, if we want to build societies that are healthy to seniors.
Clark joined the Okanagan Chapter of CARP (Canadian Association of Retired Persons) A New Vision for Aging in Canada (formerly the Canadian Association of Retired Persons) at the Sparkling Hill Resort near Vernon, to thank them for their contributions to the community.
Seniors are a growing part of the population and this group is a group of seniors who are saying to the world, 'We may be senior citizens but we are active and engaged and changing communities, creating jobs, growing the community and making a difference'. And, I think that is the future that all of us want for ourselves as we age, which of course we all hope we have the opportunity to do, added Clark.
The Province says as British Columbians live longer, all levels of government are working hard to adapt, plan ahead and take significant steps to prepare for this demographic shift.
The Okanagan Chapter of CARP, spanning from Osoyoos to Sicamous, represents approximately 1700 members.
To find out more about CARP visit their website.