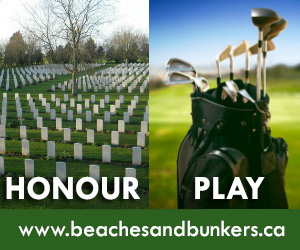 "Beaches and Bunkers"(June 21 – July 1, 2015)
isa trip of a lifetime– for individuals, couples, your foursome,your family, your friends. This is anopportunity for every Canadian tohonourour country's past, our fathers and grandfathers… and play the game we love.
Click on this link for more information, including the special offer for CARP members:
An escorted nine day tour of France, Belgium and Holland, June 21 – July 1, 2015, covering key '39-'45 locations and battles…. PLUS Vimy…. PLUS four games of golf
For the sons and daughters, granddaughters and grandsons of the soldiers who landed on Juno Beach
Lead by THE most accomplished military historian in Canada – Terry Copp
Free afternoons to wander key sites… like Dieppe, the Bayeux tapestry etc.
Wonderful group dinners meeting local officials who warmly welcome 'The Canadians'
Golf clubs provided. Just bring your shoes and your favourite 'can't be lost' ball!
Connecting with like-minded Canadians who have a thirst to know what happened 70 years ago… who also love the game of golf
We are delighted and extremely lucky to have Terry Copp lead this tour.
A long-serving and charismatic professor at Wilfrid Laurier University and the founder of the Laurier Centre for Military Strategic and Disarmament Studies, Copp is the leading scholar of Canada's military role in World War II and an influential advocate for military history in both military and civilian post-secondary education.
His work on battle exhaustion, published in 1990; his study, The Brigade (1992); and his two important volumes on the Canadians in Normandy, Fields of Fire (2003) and Cinderella Army (2006), have led to a reinterpretation of Canadian soldiers' effectiveness in 1944 and 1945.
Copp's interest in the battlefields of northwest Europe has also led to the creation of battlefield memorials, the conduct of tours for teacher and students, and the publication of invaluable battlefield guides to Canadian participation in both world wars. He is the founder of a quarterly journal published by the Laurier Centre in co-operation with the Canadian War Museum; entitled Canadian Military History, it is Canada's leading journal of military history. Find out why the Oxford Companion to Canadian Military History calls Copp a "charismatic teacher."
Special for CARP members:
$150 OFF for the first 10 CARP members to book'A Guide to Normandy' signed by Terry Copp
'Paris Passions' signed by Keith Spicer at our opening dinner
For non-CARP members:
A complimentary one year CARP membership and subscription to 'Zoomer' magazine
A Guide to Normandy' signed by Terry Copp
"Paris Passions" signed by Keith Spicer at our opening dinner
To secure your spot, please contact [email protected] or call her at 1-800-800-7252.