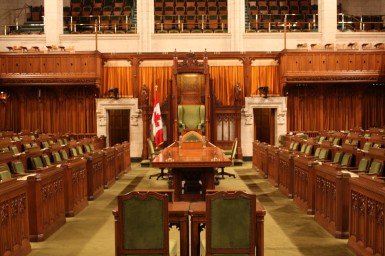 Janet Gray, Chair of CARP's Ottawa Chapter, represented CARP before the Standing Committee on Human Resources, Skills, and Social Development and the Status of Persons with Disabilities on October 30, 2014 to urge the government to adopt Bill C-247, An Act to expand the mandate of Service Canada in respect of the death of a Canadian citizen or Canadian resident. The bill aims to make Service Canada the single-point of contact for Canadians to notify the federal government about the death of a loved one.
Currently, Canadians must contact multiple federal government departments to notify the government of a death, a process that also often requires multiple forms of documentation for the proof of death. Due to a lack of coordination and communication across government departments, bereaved Canadians are obligated to take unnecessary measures, creating additional stress during an already difficult time in their lives. In some cases, some people have to notify over 30 different departments and programs, such as CPP, OAS/GIS, Social Insurance Number, Passport Canada, GST/HST payments, Veteran's Disability Program, Death Benefit, Elections Canada, Citizenship card, Earning Loss benefit, Canada Child Tax benefit " just to name a few. Furthermore, the family survivors may not be aware of all the programs and benefits/supports that the deceased was receiving, and as a result, they may risk facing requests for repayments or other government penalties years later as a consequence.
CARP welcomes this private member's bill that will streamline the currently uncoordinated fragmented system and remove unnecessary stress and burden that Canadians experience from repeatedly notifying multiple government departments. Many Canadians would be surprised that a single point of contact does not already exist to notify the government of a death and would not accept that government is unable to share information across its own departments. In addition to benefiting Canadians, the bill will also remove unnecessary costly inefficiencies for government.
Bill C-247 is a low hanging fruit that benefits all Canadians, and therefore, government should enact right away. CARP will be monitoring to see that this bill is passed.
A sample list of possible government departments that people would currently need to notify upon death:
Service Canada/Employment and Social Development
Old Age Security (OAS)
Guaranteed Income Supplement (GIS)
Canada Pension Plan " (Survivor's Pension, Children's Benefit, Disability Benefits, Death Benefit)
Employment Insurance Benefits
Social Insurance Number (SIN)
Wage Earner Protection Program
International Benefits/Social Security Agreements
Federal Income Support for Parents of Murdered or Missing Children Grant
Canada Revenue Agency
Filing of Deceased Tax Returns/Clearance Certificates
GST/HST Payments
Canada Child Tax Benefit (CCTB)
Universal Child Tax Benefit (UCCB)
Working Income Tax Benefit (WITB)
Passport Canada
Cancellation of passport
Veterans Affairs Canada
Veteran's Independence Program
Benefits for Survivors of Disability Pension Recipients
War Veteran's Allowance
Death Benefit
Earning Loss Benefit for Survivors or Children
Supplementary Retirement
Education Assistance Program
Last Post Fund – Funeral, burial and grave marking assistance
Elections Canada
Remove Elector from voters list
Public Works and Government Services
Public Service Pension Survivor Benefits
Supplementary Death Benefit
Citizenship and Immigration Canada
Citizenship Card
Permanent Resident Card
Citizenship Application
Deceased Applicant or Sponsor of Immigration Application
Aboriginal Affairs and Northern Development Canada
Decedent Estates Program
Secure Certificate of Indian Status (SCIS)
RCMP
Firearms Registration/Transfer of Ownership
National Defence
Survivors Benefits
Death Benefit payable under the Canadian Forces Superannuation Act (CFSA)
Casualty Support
Foreign Affairs, Trade and Development Canada and International Trade
Notification if Canadian deceased abroad
Fisheries and Oceans
Fishing License