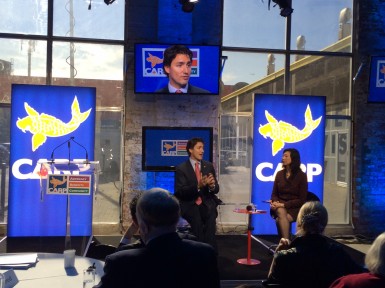 CARP welcomed the federal Leader of the Liberal Party Justin Trudeau to its Annual General Meeting on October 24, 2014, at which Mr. Trudeau announced his position on retirement security to the leadership of 53 CARP chapters from across the country. His speech and Q&A discussion with the chapters were captured on video but the following are the highlights of his speech and responses to CARP's questions.
On retirement security, Mr. Trudeau committed to working with the provinces to increase the CPP and reverse the age eligibility of OAS/GIS back to 65 if elected as prime minister in the upcoming 2015 federal election, saying the following:
"I believe and the party that I lead believes that all Canadians deserve a secure and dignified retirement after a lifetime of hard work. But how can we meet that goal when the Old Age Security, the Guaranteed Income Supplement, and the Canadian Pension Plan combined don't meet that bar, when only about a quarter of working Canadians have access to an employer sponsored plan to help supplement their retirement income? As an immediate first step, the Liberal government will restore the starting age for Old Age Security and the Guaranteed Income Supplement to 65."
"As Prime Minister, I will work with the provinces and territories, with workers, with employers, and with organizations like CARP to enhance the Canada Pension Plan. This will not prevent us from also expanding and perhaps creating alternative vehicles for retirement savings to complement the CPP as needed. But the CPP itself must be enhanced."
Mr. Trudeau also cleared up confusion around the Liberal Party's position on pension income splitting, in response to earlier accusations, and said that the Liberal Party will not be ending pension income splitting. This is what he said on the issue:
"So let's get this on the record, once and for all. As much as the Conservatives might wish they had the power to control every bit of policy that comes out of Ottawa, they won't be writing the Liberal party's platform. We will not end pension income splitting for seniors."
In addition to income security, Mr. Trudeau addressed CARP's concerns around health care and affordable housing, saying the following:
"Canadians expect that the federal government to offer leadership on this issues and the provinces and territories deserve a true partner in Ottawa, one that recognizes that mental health issues like PTSD and brain health issues like dementia deserve greater care and consideration, one who understand that the demographic shift is already upon us and requires a serious and substantial response. That's why I'm committed, if elected Prime Minister, to meeting with the Premiers regularly to talk about strengthening health care, to figure out where they need help and how we can help them and where we can make measurable progress on the issues that matter to Canadians, things like wait times, the affordability of prescription drugs, and the availability of home care. Knowing the demographic challenges we're facing, we need to take a hard look at new models for care".
"Finally, some serious thought must be given to ways we can support affordable housing options for seniors. There is no one-size-fits-all solution. For some, an affordable option would involve retrofitting their homes for accessibility, for others, moving into assisted housing might be more appropriate, and for still others, the flexibility of co-op housing offers a gentle and affordable way to age in place. However way we approach this challenge, making sure seniors have affordable housing, helps them to stay close to their family and friends in their communities doesn't just benefits seniors, it benefits us all."
He also commented on his openness to a discussion on national universal pharmacare, access to high quality palliative care, and how as Prime Minister, he would make government more transparent and accountable to all Canadians:
"Yes, we are very very interested in looking at pharmacare. The reality is that we don't' have the same kind of fiscal situation that the Liberal government left with when we left office in 2005- 2006. We had a $13 bi surplus. We're finally just getting back into surplus. There will be some difficult decisions to be made but I certainly know that partnering with the provinces, looking into how we can make health care and pharmacare more affordable, prescription drugs more affordable, particularly for our most vulnerable people, is a priority for the liberal government."
"Making sure that there is high quality accessible palliative care for every Canadian who needs it should be a baseline element of reality all across this country. And it's the only baseline from which we can actually have a conversation about other end of life issues. The danger that gets brought up around issues of dying with dignity is very much around people worried that it's going to become a shortcut or it's the lack of quality palliative care that allows people to or force people to make very important decisions. And that should never be a factor in people's decisions like that"¦. I fundamentally believe in people's rights and freedoms to make their own decisions but that I also recognize society's responsibility to make sure that our most vulnerable are protected."
"…I've committed that the Liberal Party, if we form government, will whip votes and enforce party discipline in only three areas. First, things that you are explicitly elected on in your platform. Canadians voted for a platform and if they put us into government it's because they liked our platform, you're going to have to support our platform "" that's sort of obvious. Secondly, if we're in government, we're going to have to pass budget bills "" those are matters of confidence. The Liberal party will be expected to vote together to support a Liberal budget. And third are things that go to the heart of the Charter of Rights and Freedoms because as Liberals we defend people's rights. We don't assail them or take them away, and that's important for everyone who votes Liberals to know that their representative will do. Beyond that, I think there should be healthy debate, even within a political party."
As the federal election approaches, CARP will closely monitor all parties' positions on CARP's issues, such as healthcare, pensions, caregiver support, pharmacare, and support for low income seniors. To learn more about CARP's positions on these issues, read CARP's policy papers and CARP's budget submissions.
WATCH the full video of Justin Trudeau's speech and Q&A discussion with CARP.