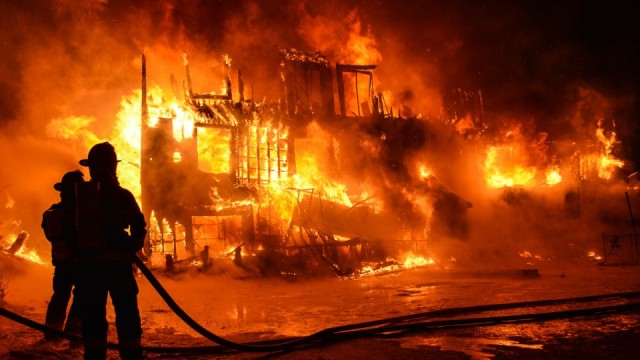 Almost a year has passed since the fire tragedy at the Résidence du Havre nursing home in L'Isle-Verte, Quebec, killed 32 people and left 15 others injured on January 23, 1014.
The L'Isle Verte fire revealed just how vulnerable and exposed to danger are older residents of care homes in Canada and how little governments are doing to prevent these sorts of tragedies. The Coroner's Inquest, which wrapped up its investigation and witness reports in preparation for a full report due in the coming weeks, confirmed the patchwork of regulations and inconsistent standards of safety and care and emergency preparedness that put the residents in danger.
Findings from the Coroners Inquest
Key findings from the testimonies presented during the inquest show that neither the owners of the home nor the staff were prepared to properly execute an evacuation of residents. The Résidence du Havre was also not fully equipped with fire sprinklers and other preventative measures, such as fire separation walls.
On the night of the fire, there was only one night security guard on duty, according to the testimony; there were no other staff that night for a 52 unit building with most residents over the age of 85, some of whom had dementia.
When the alarm company control centre called the seniors' home and asked the security guard if he had called the emergency responders, the guard said he hadn't and that he wanted emergency responders to come assist. He then hung up the phone. The alarm company then called 911, but the operator put them on hold for 30 seconds while confirming the address and details about the fire.
The inquest found that had the guard called 911 first and instead of the alarm company, the call would have been answered immediately and the operator would have known the address automatically, allowing first responders to arrive sooner. But, even after the 911 operator decided to send firefighters, the first fire truck didn't arrive on site until almost 20 minutes after the first call. The emergency dispatch center couldn't decide initially whether to call another fire station. And when they did, it was another 20 minutes after the first call went out. By that time, much of the damage was underway.
The home's co-owner who lived on site also did not call 911 until seven minutes after the central alarm system went off. According to testimony, when asked if the residents had been evacuated, he said that they couldn't get out because they were locked inside and there was too much smoke. Perhaps the most damning fact to emerge from the Inquest was that the co-owner admitted that he installed a latch lock on the inside front door to prevent residents with dementia from getting out. Ultimately, the inquest found that the locked door prevented people from evacuating the residence, contributing to the 32 deaths.
The inquest also found that no command post was in place to help facilitate rescue and firefighting efforts. Forty-five minutes after the alarm went off measures to evacuate the residents were still not in place.
No preventative measures were in place
Better emergency preparedness on the ground and first response by residence personnel may have prevented the loss of many lives. But the fact that the residents were unprotected in the first place by fire sprinklers and fire proof separation walls and doors all but ensured that the fire would lead to injury and loss of life.
The tragedy at L'Isle Verte, and the deaths and injuries it caused, was largely preventable. Properly implemented and executed fire safety, training, and planning together with mandatory fire sprinklers would have saved lives. At L'Isle Verte, the fire started in older wing of the home, which had no sprinklers. The newer wing had automatic sprinklers and was unaffected by the fire. The contractor who built the home said no special measures were required because the home was originally constructed for independent and mobile people. An investigation by La Presse newspaper found that 1,052 of 1,953 private seniors' residences in Quebec have no sprinklers at all, and 204 of them, including the L'Isle-Verte home, had only partial sprinkler systems.
Fire sprinklers make a tremendous difference in the amount of damage and loss of life that can be caused by fire. According to the Canadian Association of Fire Chiefs (CAFC) residential sprinklers reduce the risk of fire-related deaths and injuries by over 80% compared to homes which do not have sprinklers.
Sprinklers also reduce damage to property. Property damage in a home with sprinklers is 68% lower compared to homes without sprinklers. What's more, installing fire sprinklers is not prohibitively expensive. The cost to retrofit an existing building with sprinklers ranges between $2 per square foot to $10 per square foot and the cost to install sprinklers in an initial residential building construction is about 1%-2% of the total build, according to the CAFC.
Fires, deaths, and injuries such as occurred in L'Isle Verte are an unfortunately common occurrence in Canadian care homes. The Coroner's Inquest into the fire at L'Isle Verte and reports from CAFC shows that concrete measures can be put into place to save lives. For many, it is unfortunately too late. Since 1969, over 140 residents of care homes in Canada have died due to fire and many more have been injured and displaced:
1969 –Notre Dame-du-Lac, QC 54 deaths
1976 –Goulds, NL 22 Deaths
1980 –Mississauga, ON 8 Deaths
1995 –Mississauga, ON 4 Deaths
2009 –Orillia, ON 4 Deaths
2011 –Timmins, ON 1 Death
2012 –Edmonton, AB 1 Death
2012 –Langley, BC 1 Death
2012 –Hawksbury, ON 2 Deaths
2013 –L'Isle-Verte, QC 32 Deaths
Provincial governments are failing to act to prevent future fire tragedies in care homes
Provincial governments have been slow to act, despite hundreds of lost lives in nursing home fires over the past decades. While all new care facilities built in Canada since 1997 are required to have fire sprinklers and meet fire safety codes, no province has yet implemented mandatory retrofitting of homes built prior to 1997.
According the CAFC, only Ontario and Newfoundland are currently taking steps to mandate fire sprinkler retrofitting in existing building. But even so, Ontario, which leads the other provinces in this area, will not enforce retrofitting until 2019 for public homes and 2025 for private homes. Ten years is much too long to take action on a preventative measure that has proven to save lives. In most other provinces, legislatures are still only discussing the issue or have taken no action at all:
Alberta- Being discussed within the provincial government.
British Columbia- Being discussed within the provincial government.
Manitoba- Being discussed within the provincial government.
New Brunswick- No retrofit of Vulnerable Occupancies.
Newfoundland Labrador– Currently has retrofit legislation for Vulnerable Occupancies. In March 2003, the fire commissioner ordered all personal care and community care homes to install fire sprinkler systems.
Nova Scotia- No retrofit of Vulnerable Occupancies.
Northwest Territories- No retrofit of Vulnerable Occupancies.
Nunavut- No retrofit of Vulnerable Occupancies.
Ontario- Currently has retrofit legislation for Vulnerable Occupancies. Fire sprinkler systems required when sleeping five or more persons in Retirement Homes, Care Occupancies, Care and Treatment Occupancies, except hospitals. Deadline is January 1, 2019 and January 1, 2025 for Long Term Care Homes and Homes for Special Care containing care or care and treatment occupancies.
Prince Edward Island- No retrofit of Vulnerable Occupancies.
Quebec- Being discussed within the provincial government.
Saskatchewan- No retrofit of Vulnerable Occupancies. Saskatchewan Amendments requires small care homes that accommodate 10 or fewer total occupants install fire sprinkler systems.
Yukon- No retrofit of Vulnerable Occupancies.
CARP is calling on all provincial governments to take immediate steps to reduce the likelihood of future fire tragedies as occurred at L'Isle Verte. Mandating retrofitting of fire sprinklers in existing homes would go a long way in preventing death and serious injury among vulnerable nursing home residents.
But sprinklers are not the only solution. Other building code enhancements and safety measures for existing care homes are also needed, such as strategically placed self-closing doors, fire separations, and clear safety plans and staff training are needed.
Beyond mere building requirements, a change of ethic and attitude towards fire safety is also needed, as the case at L'Isle Verte shows too poignantly. Building operators and supervisory staff must ensure that there are suitable fire and emergency evacuations plans in place and that all staff is properly trained to respond in cases of emergency. The fire at L'Isle Verte lacked all these essential fire prevention measures. It had neither the infrastructure nor staff execution and emergency preparedness required to prevent or mitigate fire disaster.
Given the high cost in human life and well-being caused by fires in Canadians nursing homes, there is no excuse for governments not to act now to protect vulnerable residents from yet another fire tragedy.
December 19, 2014