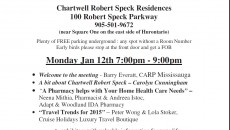 Mississauga Chapter
"a new vision for aging"
Monthly Community Meeting – January 12th 2015
FREE … everyone welcome…
…….NEW LOCATION January to June 2015…….
Chartwell Robert Speck Residences
100 Robert Speck Parkway
905-501-9672
(near Square One on the east side of Hurontario)
Plenty of FREE parking underground : any spot without a Room Number
Early birds please stop at the front door and get a FOB
Monday Jan 12th 7:00pm – 9:00pm
Welcome to the meeting – Barry Everatt, CARP Mississauga
A bit about Chartwell Robert Speck – Carolyn Cunningham
"A Pharmacy helps with Your Home Health Care Needs" –
Neena Mithia, Pharmacist &Andreea Istoc,
Adapt & Woodland IDA Pharmacy
"Travel Trends for 2015" –Peter Wong & Lola Stoker,
Cruise Holidays Luxury Travel Boutique
exhibitors with valuable information for your life
50-50 draw for cash, proceeds to The Food Bank
MEGA door prize… dinner for 4 at Chartwell Robert Speck!!!!
For further info contact:
CARP Mississauga Chapter
647-974-6808  [email protected]
Arrive at 6:15pm for a TOUR