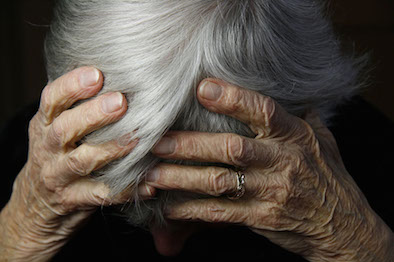 An Orillia couple found guilty of not providing proper care for an elderly woman will spend a year in jail.
Diana and James Davy were found guilty in October 2014 on two counts of failing to provide the necessities of life for Diane's mother – 76-year-old Viola Simonds.
On Friday, the judge sentenced the Davy's to one year in jail on each of two counts. The jail time will be served concurrently, meaning the Davy's will only be in jail for one year. The judge also sentenced the Davy's to two years of probation.
Family members packed the courtroom on Friday to hear the judge's ruling and for many the sentence was a relief.
"I was nervous they were going to just get a slap on the wrist because that is precedent from a lot of former cases and if they got to go home tonight that would be frustrating for me," said Viola's grandson Michael Simonds.
Simonds was found in her bed in the Davy's home in 2011 covered in vomit, urine and feces. The windows had been spray painted black and she was also suffering from a broken hip.  She died a few months later.  To read this full story via CTV News, please click here.
 The CCAC was assigned to do home checks on Viola Simonds, then 73, because officials were alerted she was not being cared for properly. There were attempts to get in contact with Simonds through repeated telephone calls, attempted visits, calling 411 and even the police, yet all attempts have failed to find the whereabouts of Viola Simonds.
 The Court has heard that Simonds was brought to emergency at the Orillia hospital in 2008 and she was confused, suffering from malnutrition, unkempt and crying in pain.
 Medical staff recommended Simonds go into long-term care, which would have been covered by the elderly women's employment pension and old-age pensions, but the Davy's (daughter and her husband) refused. They also refused home-care services that were offered.
Eventually, the Ontario Consent Capacity Board ordered random, unannounced home checks, but that was futile, court heard. Did not provide any reasons for why, probably because the daughter was unresponsive.
The CCAC coordinator testified that once she made contact by phone, a woman who answered denied she was Davy, although the coordinator claimed that she could hear a woman yelling in the background. After several more calls, she tried knocking on the door, but for months never got an answer. Police was sent out, but by then Davys' had moved.
The Simonds family doctor also suspected abuse and tried to remove the daughter as power of attorney, court heard. Dr. David Collins set up a hearing before the Consent Capacity Board, but the board refused. Instead the board ordered supervised visits to the home, but the couple who had a history of evictions, took Simonds and moved and could not be found.
Three years later (May, 2011), Simonds was found  (exact details of how are not disclosed) by paramedics in squalor, lying in vomit, feces and blood, crying in pain and calling for her "momma", court heard.
Simonds who worked as a nurse, received various monthly pensions each month, which her daughter controlled as her power of attorney. When her daughter was charged, Simonds was taken to a long-term care facility, but was too weak to have her hip repaired and the starvation and dehydration caused irreparable organ damage. She died months later.