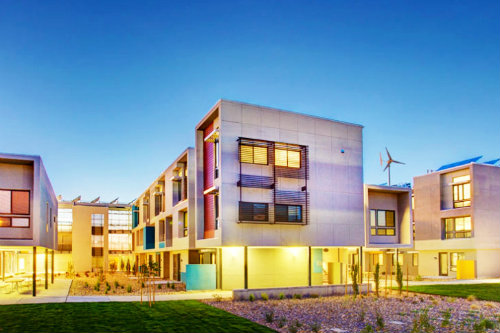 LAND LEASE. In the last issue we discussed Life Lease, as well as Land Lease where the home is actual a trailer. However, there are a growing number of Land Lease communities which have 'built housing'.
In brief, the buyer owns the home, but leases the land on which it sits. Governments, private organizations and not-for-profit groups are the usual providers. The housing is more affordable by separating the cost of the buildings from the cost of the land. There is a long tradition of this type of building in Europe, the United States and in Canada, especially in the West, although there are a number of communities in Central and Eastern Canada as well. The CMHC (Canada Mortgage and Housing Corporation) has useful information on its website explaining how this works.
There are certain advantages to Land Lease, particularly for retirees looking to downsize. The cost is usually considerably lower than comparable homes when you purchase both land and house. However, there are important questions to ask. For example, if this is an existing property, how much time is remaining on the lease? Even though you may not live in this house forever, you want to make sure the lease is long enough for your purposes for the foreseeable future. When and if you want to sell the house, the years left on your lease will affect your sale price. You also have to check terms of rental costs, if there is some kind of government rent control, and also the maintenance costs which provide for community snow-clearing, etc.
One of the advantages of land lease projects is the sense of community that comes with them. Many are close to larger centres; have on site swimming pools, tennis courts, and other amenities. Usually they are walkable neighbourhoods, encouraging residents to stay active. The homeowners often form interest groups, all of which encourage a healthy lifestyle.
Once again, as with Life Lease you will want to visit the community and research it by talking to residents who have lived there for some time; it's also wise to make sure you have legal advice from someone who is experienced in that area.
CO-HOUSING. Another interesting and relatively new option is Co-Housing, a more affordable alternative to the usual retirement home. A pioneer in this area is CARP's Barrie Chapter. The idea came about when the Chapter Chair, Gwen Kavanagh happened to meet Shelley Raymond, of Solterra Co-housing at a Chamber of Commerce meeting in Bracebridge. One such project has been established in Bracebridge and after a good deal of research and effort by the CARP Barrie Housing Committee, Co-housing has been officially recognized by the City of Barrie, as well as by the Ontario Real Estate Association, which means its roster of 57,000 agents can sell Co-Housing.
To facilitate this type of development the Barrie Chapter Senior Housing Committee, chaired by Ms. Kavanagh, has established an official registry for people to indicate their interest in the purchase of a Co-housing unit, now or in the future, without obligation. The registry is kept completely private and information is not shared, however the number of interested parties will afford developers the ability to gauge the potential for this type of venture; and it also provides a way for like-minded people to find compatible co-owners of a given property.
Thirdly, it will provide a ready-made list of possible purchasers in the event an owner has to sell their unit in the home.
Co-housing is also listed on the CMHC (Canada Mortgage and Housing Corporation) website, as a viable type of affordable housing. In fact Shelley Raymond has been hired by the CMHC to speak on the subject across Northern Ontario, where there is a severe shortage of any model of retirement home.
While the CMHC definition of Co-housing is for two or more unrelated people, the Barrie project anticipates either a new purpose built home or the rebuilding of a single family home, to be sold to four or more persons. Each owner would have a percentage interest in the ownership of the house related to the size of their unit, which includes a bedroom with ensuite and a private sitting room. The co-ownership agreement, which gives them the exclusive right to their own unit, also gives them the right, with all other owners, for the use of all common areas, such as the kitchen and living room. Because there is one kitchen the home can be built in any residential neighborhood. A house mom can be hired to do shopping, cooking, laundry, housework, etc. as required by the homeowners. In addition to the advantage of affordability, the project offers companionship and the opportunity to remain in the community. The Committee understands that not everyone will be a candidate for this type of arrangement and that care would be required to find amenable people to sharethe home. The Co-housing model works due to the property management which hires the house mom, who must be police checked and know CPP. A monthly statement is provided to each owner listing all expenses and a small amount is always set aside for a contingency fund. Any problems are also ironed out at the monthly meeting to ensure harmony in the home.
A VARIATION ON RENTAL-CO-OP. Another innovative project – a variation of the co-op model, but with its own unique components has been devised by Montreal director/writer/actor Anna Fuerstenberg. Living in an area of Montreal ripe for expansion, she has been consulting with a builder who is in the process of developing rental apartments in her neighbourhood. These will mainly be low-rise, consisting of four or five stories, with 30 to 40 apartments of various sizes.   Her plan is to find nine other like-minded people of any age, interested in a long-term lease with rental slightly below market rate. The 20-year lease will give tenants security and guarantee the landlord reliable rental payments for at least 20 years, with minimal tax increases during that time. One extra apartment will be leased, for their common use, or to serve as a guest apartment for one of the ten lessees.   Negotiations will take time, and Ms. Fuerstenberg estimates it will take at least three years before she and her fellow tenants will be able to plan their move.
Click here to read previous Carol In Your Corner: Housing Options