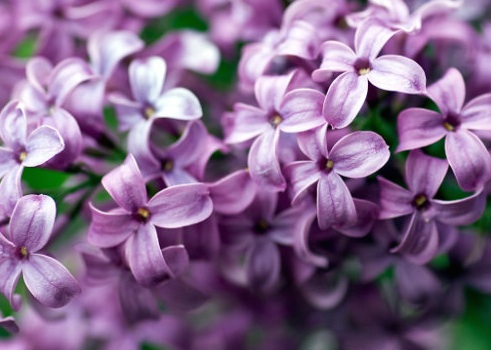 The flowers are blooming in Vancouver Island's Butchart Gardens, Calgarians are basking in another Chinook, but from Saskatchewan east to the Maritimes, we're in a deep freeze, shoveling snow, or both. I look out of my fifth story apartment kitchen window at a very tall, very bare tree shivering in the cold….Like the rest of us. But I see something else.
I look back several decades and what comes into view is the lilac tree outside my second floor bedroom, loaded with mauve blossoms, almost close enough to touch, and the sweet aroma fills my room. It must have taken years to grow that high, and I have no idea who planted it, but it was a welcome harbinger of spring in the snowy environs of that part of Montreal called Ahuntsic. Lilacs were followed by gorgeous peonies, as large as cabbages. We would bury our noses in them, ignoring the admonition, "watch out, or you'll get ants up your nose!" We took pleasure passing on the warning to visiting relatives from "the city" who, on their return home with armfuls of the blossoms, would provide beauty and perfume to the very rattling number 24 St-Denis streetcar.
Before I was born, in an effort to get his family out of the inner city, my father found a plot of land "out in the country" that he could afford to buy. He was determined to get the house built as quickly as possible, but he was a civil engineer, not an architect.   There, on rue St. Hubert, he built a large, serviceable box, two floors, covered in stucco, and a never-finished basement dug out of the earth. Because we were at the bottom of a hill, every spring when the snow melted the basement would flood and our supply of potatoes, carrots and onions would be floating on the water. I recall – at the age of four – standing at the top of the stairs, complaining that I was missing the great fun of fishing them out, just one more example of my big brother being able to do things that I was not permitted to 'enjoy'. Luckily for me, by the time I was big enough to be able to harvest floating vegetables, we had a sump pump which worked…most of the time.
We also had a huge wild grape-vine in our backyard. It served as a leafy cave for the neighbourhood kids, a private place where we would leave notes for each other – just like real spies. In the fall we would pick the grapes and my mother – a non-drinker – would be tasked with making several gallons of wine. The wild grapes would be augmented by Ontario grapes and the fermenting process went on for months. My Dad and his friends were the only people I remember who actually drank the stuff, but my brother took great pleasure in announcing to my Mum's bridge friends who called that, "no, they couldn't speak to her right now, as she was under the wine barrel."
When I mentioned to someone recently that I grew up in that north-end district of Montreal, I was told, "Oh, that's a very trendy area." Trendy? How did that happen? We did have one up-scale street, suitably named Grande Allée. The houses had stone fronts and elaborate doorways; we never saw anyone emerging from them, but we imagined all sort of elegant soirées, populated with glamorous people in long gowns and tuxedos, served by valets and butlers – a sort of mini-version of Downton Abbey. I'm delighted to learn, via Google, that the street is still there and still looking good.
Google has also revealed that not only has the huge field across from our house been preserved, but that is an enormous, leafy park, and even has what appears to be a little lake in the middle. Does the lake become a skating rink in the winter? Google doesn't say, but I hope so. Google also doesn't say how much of the park is in its natural state, looking just like it did those many years ago. Mr. Lemay's horse, of course, has long gone. We never knew what Mr. Lemay's horse did for a living, but he peacefully wandered the field and ignored the gangs of kids clomping through the underbrush, getting soaking wet, picking spring flowers, climbing trees, and falling out of them.
Those were climbable-sized trees, unlike the huge specimen I can see through my kitchen window. One day I will look out and notice something different. It will be covered in a kind of green aura and then, suddenly, leaves will appear: – the sign we've all been waiting for. And no doubt Parc Ahuntsic will also be in its glory and another generation of kids will be out exploring, with the ghost of Mr. Lemay's horse watching benignly as the hunt through the underbrush for the first wildflowers of spring.