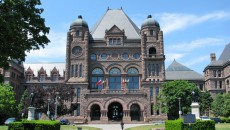 The Ontario government announced on March 24, 2015 that more money will be invested in home and community care – welcome news for many Ontarians. As promised in the 2014 provincial Budget, the province is investing $40 million over 4 years into home and community care. This will increase home and community care funding by 5%. According to their news release, increase in funds will enhance rehabilitative services and programs such as:
Comprehensive risk assessment programs in the community
Hospital day programs and outpatient and community clinic services
Access to short stay hospital rehabilitation programs
Supports for seniors in their home and community after a stay in hospital
In addition, the government has introduced new funds of $4.2 million to expand access to physiotherapy services. See the full news release for more information.
CARP welcome this announcement but continue to look to the government to prioritize improving home and community care to ensure that people are able to access the services when they need it and that the system is effectively using its resources. Recent reports from this month have shown that while investments have been increasing in home and community care over recent years, many systemic problems remain. Much more needs to be done to transform home and community care to meet the needs of Ontarians.
Read more about the results of the recent reports on the state of home and community care in Ontario.