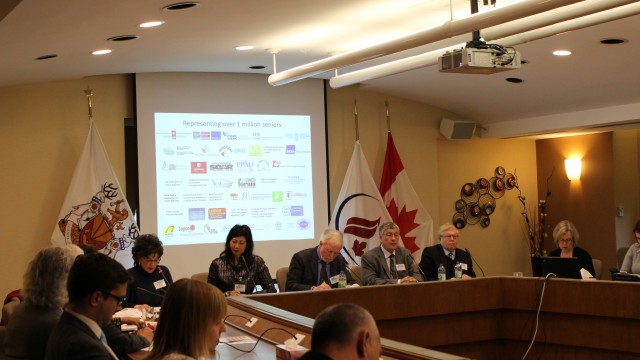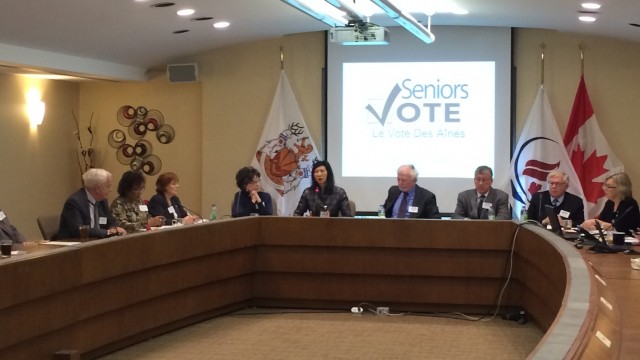 In anticipation of the spring federal budget and upcoming election, CARP in collaboration with over 50 organizations across Canada have formed Seniors Vote/ Le Vote des Aînés, a nation-wide initiative comprised of seniors, retirees, professionals and advocacy groups, representing over a million seniors who demand action on retirement security and healthcare reform. Collaboration of this magnitude urges political parties to act on these important issues.
To kick off the Seniors Vote campaign, an open letter was sent in April to federal, provincial and territorial finance ministers and critics, voicing concerns that particularly resonate with older Canadians, and providing a list of actionable recommendations and priority issues for the 2015 federal budget and election.
To raise awareness of the issues outlined in the Seniors Vote, representatives of the campaign hosted a pre-budget event on April 20th in Ottawa, a day before the federal budget would be tabled in Parliament. The pre-budget event provided an opportunity for MP's from all parties to meet with Seniors Vote representatives to discuss the issues and how they can be addressed better by the government.
Leader of Green Party Elizabeth May, NDP Health Critic Dr. Hedy Fry, Liberal MP John McCallum, NDP Pension Critic John Rafferty and NDP Seniors Critic Irene Mathyssen were in attendance along with representatives from Public Health of Canada, Justin Trudeau's and Minister Alice Wong's office. Representatives of Seniors Vote, including Susan Eng, VP of Advocacy at CARP, Pat Kerwin, President of Congress of Union Retirees of Canada, and Herb John, President of National Pensioners Federation lobbied the MPs on issues such as pharmacare, housing, and federal government's role in setting national standards for home care.
With preparations for the federal election underway, Seniors Vote also calls for comprehensive pension reform by expanding access to pensions and increasing income supports for low-income seniors to ensure that people have enough financial means during their retirement years. Achieving income security in working life and retirement is increasingly difficult for Canadians of all ages.
Seniors Vote specifically calls on the federal government to:
Work with provinces to increase the CPP
Strengthen income supports by
Restoring the OAS eligibility age to 65 from 67
Increase the exempt earnings band for GIS
Increase the amount of OAS and GIS for low income seniors
Increase income supports for low-income single older Canadians not yet eligible for OAS by creating an equivalent to the OAS spousal allowance
Prohibit retroactive erosion of earned pension benefits
Healthcare remains the highest priority for Canadians who demand transformative change. Canadians are increasingly treated as health consumers or merely patients, rather than as "healthcare citizens" who pay for the system and expect it to serve the values set out in the Canada Health Act – universality, accessibility and comprehensiveness. To do this, the healthcare system must undergo transformative change and center itself on the needs and expectations of the patient.
Seniors Vote specifically calls on federal government to:
Work with the provinces to create a national pharma care plan, with an ultimate goal of first dollar coverage for all Canadians
Work with the provinces to fund and set standards to improve access, affordability, and quality of post-acute and chronic care, in the home and in the community, with particular focus on dementia care
Increase financial support and provide workplace protection for caregivers
Work with the provinces to ensure every Canadians has access to housing appropriate to need, including affordable and supportive housing, and assisted living services.
The Seniors Vote campaign will continue to push all parties to address the pressing issues Canadians face as they age, in the lead-up to the federal election and during the campaigns. This year on October 1st in celebration of the International Day of Older Persons, Seniors Vote campaign will organize flag raising ceremonies at city halls across Canada to make sure that all politicians know that older Canadians are the strongest voting demographic and they demand action on the key issues of financial security and healthcare transformation.
April 24, 2015
Seniors Vote campaign
Seniors Vote joint open letter
Seniors Vote updated list
Watch and read CARP's Pre-Budget media mentions:
"Pre-election budget to benefit seniors, including relaxation of RIFF rules" – The Globe and Mail
"Federal Budget 2015: Tories to Court Support from Seniors" – Huffington Post
"RRIF rules may get overhaul in budget"- CBC News
"Federal budget could include RRIF changes for older Canadians" – CTV News
"Budget expected to include overhaul of RRIF withdrawal rules" – The Star.com
"RRIF changes expected as Tories court support from older Canadians" –Herald News
"Federal budget could benefit seniors" – The Chronicle Herald
"Upcoming federal budget expected to court support from older Canadians" – CJAD News
"Next Week's federal budget expected to court support from older Canadians" – Guelph Mercury.com
"Tories targeting seniors in federal budget?" – Guelph Mercury.com
"Federal budget expected to delay RRIF withdrawals to age 75" – Hamilton Spectator
"Budget could see changes to RRIF withdrawal rules" – Money Sense
"Upcoming Fed budget expected to court Canadian senior set" – Stokhouse
Video: "Power and Politics with Evan Solomon" – Susan Eng at 1:37:00