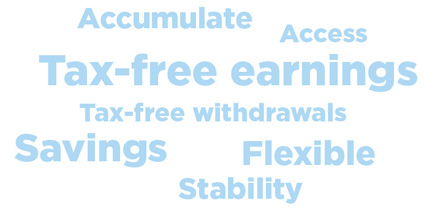 The recent doubling of the TFSA announced in the federal budget has received mixed responses from the public and other political parties. Many welcome the news of having more tax-free room to help them save, while others criticize that it disproportionately benefits those who are wealthy. Going beyond the rhetoric, CARP analyzed the evidence and the numbers to see what they really revealed, and the analysis revealed many more people with modest incomes benefit from the TFSAs than those who are wealthy.
The recent federal 2015 budget  announced an increase to the TFSA contribution limit from $5,500 to $10,000, effective this 2015 taxation year. According to the government's analysis, half of TFSA holders had annual incomes of less than $40,000, indicating that the TFSA is a popular method of saving for all Canadians at all income levels. Furthermore, the often repeated line that only the wealthy are maxing out their TFSA's isn't the case. The budget document states that about 60% of individuals who contributed the maximum to their TFSAs had incomes of less than $60,000 in 2013, as depicted in the following chart below. The median annual family income in Canada is about $75,000, proving that even modest income Canadians have been making good use of TFSAs.
Numbers show critics' arguments don't stand – The analysis
Many are criticizing the government's policy to increase the TFSA, including the opposition parties and many voices in the media, arguing that the policy benefits only the wealthy. NDP Leader Tom Mulcair and Liberal Party Leader Justin Trudeau both promised that they would reverse the increase to the TFSA should they win the election. In one article, Liberal MP Ted Hsu argues that the government's statistics, specifically the one that states 60% of Canadians who maxed out their TFSA contributions in 2013 have incomes of less than $60,000, is misleading because there are simply more people who earn less than $60,000 compared to those over $60,000. Instead, he argues that it is more important to look at the percentage of people within each income range who contributed the maximum to their TFSA, which would reveal that a higher percentage of wealthier people maxed out their TFSAs than was the case among middle-income earners.
It is true that a larger percentage of people with higher incomes maxed out their contribution room but when there are only 5.7 million adults earning more $60,000 compared to a whopping 22.5 million adults earning less than $60,000, MP Hsu's argument does not stand up. Using MP Hsu's numbers and graphs, our analysis showed that despite the fact that there is a larger percentage of people earning more than $60,000 who have maxed out there TFSA contributions, there were more Canadians in total earning less than $60,000 who maxed out their TFSA than those who earn more than $60,000. Of those who maxed out on their TFSA, there are approximately 800,000 Canadians earning more than $60,000 compared to 1.2 million Canadians earning less than $60,000 – 50% more than the number in the "wealthy" category. And this doesn't include those who have contributed but not to the maximum. The numbers clearly show that the wealthy are not the only ones benefiting from TFSAs. In fact, the numbers show that Canadians of all incomes are making good use of their tax-free savings accounts. Read more about all of CARP's federal pre-budget recommendations.