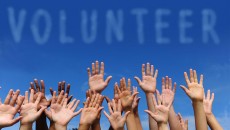 Volunteers needed in the following areas…see below
Fraser Valley– Abbotsford, Mission, Chilliwack,
Metro Vancouver Regional– Langley, Aldergrove.
Valuable is the work you do
Outstanding in how you always come through
Loyal, sincere, and full of good cheer
Untiring in your efforts throughout the year
Notable are the contributions you make
Trustworthy in every project you take
Eager to reach your every goal
Effective in the way you fulfill your role
Ready with a smile like a shining star
Special and wonderful — that's what you are!!
Volunteers needed  for One-Time / Short-Term Activities and Ongoing Opportunities
For more information contact CARP South Fraser Chapter #48
 Chair Trudy Archie :
*********************************************************************
To renew your CARP membership,
don't forget to indicate our Chapter number South Fraser #48 
as well as  when signing up online &
on Membership forms