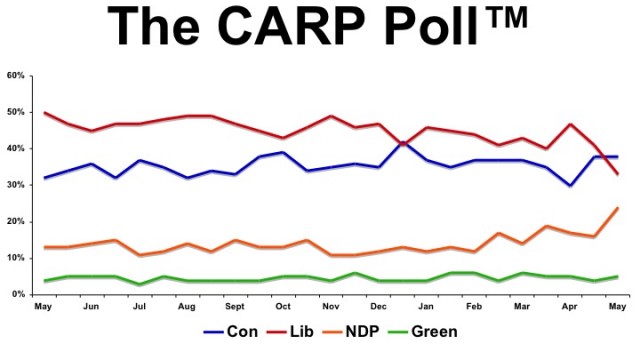 Key Findings
May 21, 2015: The CARP electorate is engaged, demanding and volatile; they will change their political allegiances now in a way unthinkable in the past in order to achieve their goals for the country.
Virtually every member has voted and all will vote next time. While they see Stephen Harper as the best Prime Minister by a wide margin, he is given the lowest approvals of all four leaders, a political phenomenon known as the "strict father" leader stereotype, not liked, but respected. The party and leader that, overall, is best liked on several dimensions, is the NDP, although they are not seen as likely to win the next election.
The Conservatives and the NDP are equally likely to be seen as the best parties for listening older Canadians, but the Conservatives are also seen as the party that wants power over all else. The Conservatives and the Liberals are both matched for having the best vision for Canada.
The three leading "doorstep issues" for members in the coming campaign are home care and long term care, pharmacare, and CPP enhancement. They see the federal government as the central governing authority of the country, with a responsibility to all Canadians, not as some impartial coordinator between provinces.
Many have become more engaged in politics since the last election, mostly non-supporters of the government, and many believe the recent provincial elections will have the effect of sensitizing voters to important issues.
Members think some youth don't vote because they are genuinely turned off politics by the bad actors and because they think their vote doesn't matter. The majority of CARP members believe Canada is becoming less democratic as time passes.
The promises that might change members' votes include a national home and dementia care strategy, a guaranteed annual minimum income and a national pharmacare plan.
Members watch debates, and about a quarter have seen their vote change because of a debate. The Conservatives are now in first place in electoral preference, due to the Liberals sharply diving, due in turn to the NDP sharply increasing, both in vote share and expectations of victory. The three parties are headed to parity.
Click here to download the full poll report complete with charts and graphs