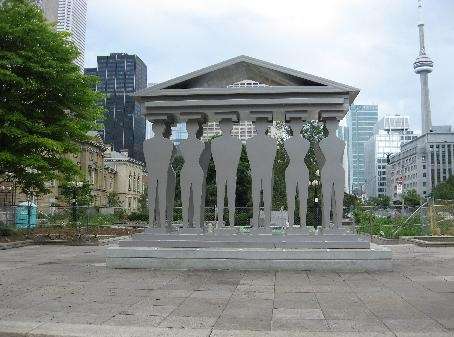 A few months ago, into my mailbox popped a letter with the return address: Sheriff's Office, Ministry of the Attorney General of Ontario. I rapidly reviewed my list of sins, but not one of them warranted a summons from the Sheriff. Opening the envelope I discovered that I had been summoned for the purpose of jury selection on a specific day in May. What's more, if I did not attend on the required date, I would be liable to the penalties provided by the Juries Act. This required scrolling way, way down in said Act, revealing that if I didn't supply a good reason for being excused, I could be fined not more than $5,000. or imprisonment for up to six months. Or both. Obviously the better choice was to show up.

At 8:30 a.m. there I was in the line-up, at 361 University Avenue in Toronto, waiting to go through security. It is similar to the security at the airport, including bag check.   Then we were led to a very large room, and filed in. In my ignorance I thought I'd be ushered into the courtroom, asked a few questions by the lawyers for each side in the dispute, and either approved or sent home. That's not the way it works. I had already been assigned to a Panel, checked in with the required Court officer, then found my way behind one of four pillars, each designated by a colour: red, purple, green and blue.
As I took my seat, across the aisle I spotted Cathy, a casual acquaintance I had met playing tennis. Co-incidence, in which I firmly believe, has now led to the possibility of widening my circle of tennis friends. The experience has already yielded a "plus".
I realized that reading John Griffin courtroom novels, attending several performances of "Twelve Angry Men" and watching "The Good Wife" did not offer accurate insight into how things worked in a Canadian court. However, my concerns were laid to rest, when a cheerful gentleman provided information, followed by a video which supplied even more.
Yes, court proceedings do start with "Oyez, Oyez, Oyez" pronounced by a court official, dressed in formal legal attire.   The use of this phrase goes back a long way. The origin is Middle English, from the Anglo-Norman, "hear ye". Until the 18th century, speaking English was not required in a British court of law; after the Norman Conquest Anglo-Norman was the language of the official class, and "Oyez" is actually a call for silence. One of the most daunting courtroom jobs, in my view, is that of Court Reporter. According to my Internet search, that person uses steno machines, specialized keyboards or typewriters that facilitate shorthand typing, at a speed of 225 words per minute, with near 100% accuracy required. What's more, the keyboards use a phonetic system, with fewer keys than a conventional one, and court reporters hit multiple keys at once. This procedure is called chording or stroking and produces syllables, words, and phrases in single motions. The system's software then translates these strokes into sentences.
Our court – you notice the way we took possession of our duties – handles criminal, civil and from time to time Coroner's Inquests. We were informed that around 1,000 potential jurors can be called each week, and discovered that most of the time our main occupation would be waiting. Unless otherwise instructed we would appear for up to a week at 9:30 each day and be dismissed by 4:30. We could take short breaks, as long as we returned, with summons in hand; and lunch was to be from 1:00 to 2:00 p.m., unless there was a change. The reason the officials didn't know much more than we did as to scheduling, is because they were waiting for news from the various courts where, we assumed, lawyers and clients were arguing about a variety of legal issues before a court date could be determined. Also, an accused could request to be tried by a judge, not a jury, until the last minute, which would render us superfluous.
There are strict rules for jurors once actually appointed. One former juror we met in the cafeteria had served at a murder trial, but he was still not permitted to discuss the case publicly. And if you wondered if we got paid for sitting there and waiting, the answer is 'no'. In fact if you do serve on a jury, there is no compensation until you have been there 11 days, at which point you receive $40 a day. If the trial lasts 49 days, the per diem is $100. Once called for jury selection, you won't be called again for at least three years.
I did bring a book to read, but finished it long before we were to be dismissed. Although the room is equipped with WiFi, I do not have a lap-top. What to do? My almost-new friend Cathy directed me to a book-case at the far right hand corner of the room. There I found six volumes of Readers' Digest
Condensed Books, with deteriorating bindings, the most recent published in the 1970's, a few tattered mysteries and out-of-date magazines. There were also two or three dozen copies of the National Geographic, most from the 1970's, the most recent 1999 – practically brand new. However, National Geographic magazines are impermeable to time. There is always something of interest, and the photographs are superb. A friend once told me that although he loved the magazine, he never wanted to subscribe to it, because no matter how many times you moved, or whatever far-flung places you moved to, you could not part with them. Kids grow up and leave home, but not the Geographic. However, if anyone out there is in that situation and wants a good home for their collection, please drop them off at the Court House between 9:30 and 4:30 any day during the week.   My contribution will be a few almost-up-to-date magazines, from 2013.
The second day I attended, feeling like a pro as I navigated the security system and checked in, I was well supplied with reading material and food, although there is a cafeteria in the basement. During lunch-hour I wandered around the Court House building, which is next to Osgood Hall Law School, and behind Toronto City Hall, smack in the middle of downtown; but the area is amazingly calm and peaceful. There are shade trees, benches to sit on, people munching sandwiches, reading, wandering, and interesting sculpture to contemplate. The site was originally the University Avenue Armouries, home of the Toronto Regiments from 1891 to 1963. In front are the two McMurtry Fountains, offering a welcome spray on a hot day. Designed by Michael Hough, Landscape Architect, they are symbols of Balance and Justice. To the left is a sculpture entitled The Pillars of Justice, featuring 11 standing figures, with one empty space: that is reserved for you, the juror. Or, in this case, me.
Taking the admonition seriously, I returned to the courtroom. A few hours later our panel and one other were dismissed. We were to return two days later. Aha, did this signify we were actually going to be called as potential jurors? When I asked, the reply was enigmatic. So, like any good mystery, this chapter ends with a cliffhanger.
What will happen next?   Only time and my next trip to the courthouse will tell…