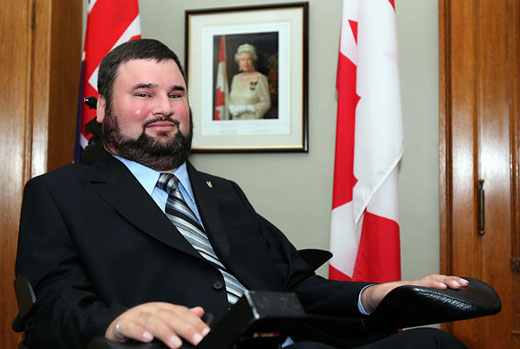 MP Steven Fletcher Pens Editorial in Defense of Physician Assisted Death; Points out that his Opinion is a Consensus Shared by most CARP members, the Supreme Court, the Canadian Medical Association, the B.C. Civil Liberties Association and many other large non-for-profit organizations.
Click here to read "Steven Fletcher: We need physician-assisted death and palliative care" – The Province, June 6, 2015
Dr. Harvey Chochinov has dedicated his life to the betterment of Canadians, particularly those Canadians at the end of their life. In fact, he is one of the pioneers of palliative care in Canada and I respect his opinion. However, I must correct some factual mistakes made in his May 22 op-ed that appeared in The Province.
The vast majority, 84 per cent, of Canadians support physician- assisted death. The numbers are similar regardless of one's religion, political orientation, ability or disability, region or age.
Since death has been part of life since the beginning, it is hard to believe that palliative care has only come forward as a clinical option in the early 1980s. Holding the only Canadian Research Chair in Palliative Care, Chochinov has introduced new and better methods to deal with palliative care and is a passionate advocate.
Chochinov and I share more common ground on these issues than he may realize. For example, it is said that only 17 per cent to 25 per cent of Canadians have access to palliative care. Everyone agrees more resources need to be invested in palliative care. Everyone who wants palliative care should have access to it. I also believe that everyone who wants to have physician-assisted death should have access to it with all the appropriate caveats. To have palliative care and another option does nothing to take away from palliative care. In fact, there are jurisdictions that have assisted death that also have improved palliative care.
In Chochinov's column, every assumption and every assertion where he implies that my position or anyone who agrees with me is disappointing. He seems to forget that the Supreme Court has reviewed all the evidence, heard from stake holders on all sides and the nine justices unanimously agreed that there should be physician-assisted death in Canada within a frame work that protects the vulnerable. In addition, organizations such as the Canadian Medical Association, the Canadian Association of Retired Persons and the B.C. Civil Liberties Association and many other large non-for-profit organizations.
After the accident at age 23 that left me completely paralyzed from the neck down, Chochinov reminds me that I said that if physician-assisted death had been available, I may have taken it. I can say unequivocally that if physician-assisted death was an option it would have brought a huge sense of relief to me as the terror of drowning in my own phlegm was overwhelming. I would have been relieved to know that as I fought to survive I could avoid a horrible death if I didn't get better. I did improve, slowly.
What I quickly discovered was how we, as a society rush to save people from catastrophe or prolong one's life but then we do not provide the resources to allow people to live productive and dignified lives.
I was very fortunate to have many advocates and I will say that the majority of my health professionals have been helpful. Many have gone beyond the call of duty. However, to say that "there was unequivocal support from the health care professionals" is far from the truth. I hate to say this, not all the health care aids, nurses, therapists or doctors were empathetic and some were outright obstructionist, unprofessional and uncaring.
This was particularly true during the months when I was unable to talk and was at my most critical point. They wanted to institutionalize me. There are many things that have happened that I would not wish on anyone. I wanted to live my life, not to be alive for the simple reason to exist.
There are people who wish to impose their view of life and death, right and wrong, what is moral, what is not moral on others. Within the frame work of the Supreme Court ruling, individuals should and will have the right to self-determination.
Sadly, a minority of individuals with disabilities have said that the Supreme Court ruling makes their life worthless. Nothing could be further from the truth. Every life is sacred and we must do everything we can as a society to help each other. Prolonging one's death from ALS or any number of horrible diseases or illnesses does not improve my life as a Canadian with a disability or any other Canadian's life with a disability. The needless suffering only makes me sad with the realization that life can be cruel and unfair.
Canadians will no longer have to take their own lives before it is too late, worry about dying without dignity or suffering without hope. The Supreme Court has said it is up to the individual to make the best decisions they can for themselves based on their life experience, morals, ethics and religion. If a person is not cognitive, say with dementia, they would not be eligible for physician-assisted death. Nor, to give another example, is an individual with chronic depression.
Individuals like Chochinov may find it more useful to focus energy improving care standards, palliative care, home care, hospice care and so on and I encourage them to continue doing so. I respect Chochinov and all other Canadians who choose the route of palliative care. I ask that he and everyone else show the same respect to those who ultimately choose the route of physician-assisted death as it is a personal choice.
We need to work together so that every Canadian has the ability to live full and meaningful lives while recognizing that all resources in the world cannot help in every situation and people deserve the right to make the decision about their end of life care.
Steven Fletcher is the Conservative MP for the Manitoba riding of Charleswood—St. James—Assiniboia.
Click here to read CARP hosts an Adult Conversation on Medically Assisted Dying