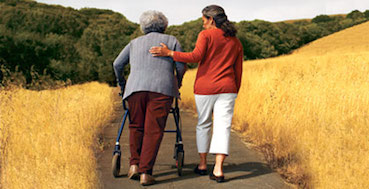 Wendy's grandparents – he was a professor at McGill University – always had students living with them. One of them, Bill, also became a professor at McGill – and never left. After the death of both grandparents, and her own father, Wendy, her husband, Roy, two young teenagers and her mother, Dorothy, decided to fulfill their dream and move from Lorraine, Quebec, to British Columbia. They found the ideal house in the small town of Comox, on the east coast of Vancouver Island. True to form, Bill – now retired – went with them, taking over a smaller house on the same property. Roy was retired; Wendy found work with the provincial government.
The family settled in; at the age of 80 Bill was diagnosed with cancer. He refused an operation, saying that "any day over 80 was good enough". Eventually, in spite of managing well for a few years, he required help; Wendy and Dorothy pitched in, cooking anything he could or wanted to eat, augmented with "Meals on Wheels". Their Family Doctor referred them to the Red Cross, which provided a hospital bed, and other necessities. The Community Nurse changed dressings, helped him shower, etc. A telephone beside his bed was programmed to reach Wendy just by pressing one number. When Bill was declared "palliative", more supplies and services were available. Because Bill had savings, they were able to pay for cleaning and more care if needed. "The most important thing for all of us was that Bill would die as he wanted, where he wanted – in his home, in the living room where he asked to end his days, on a hospital bed that was tilted up so he could see the ocean."
A few years later Roy – who had been contending with diabetes – was diagnosed with Alzheimer's. Wendy wanted to keep Roy at home, but did find a suitable residence. However, that would have meant handing over almost all of Roy's pension, and as her salary was only moderate, she would have been left without enough money to keep herself and her family in their home. Roy could have been "held" in the local hospital without stimulation of any kind. To add to the problem, Dorothy – already battling severe arthritis – was having memory problems, later also diagnosed as Alzheimer's.
As Wendy relates, "Undecided, I tried to keep on working, and look after Roy and my Mom. There were simply days that I could not go to work – so I chipped away at my holiday time until there was none remaining, then eventually, took my Compassionate Benefit (Federal Government). But that didn't last nearly long enough. Returning to work, they asked me if I wished to take a Leave of Absence – again – a no salary situation. And again, I couldn't manage without Roy's pension and my salary – so I was sort of "forced" to retire."
Two weeks later, Roy died, at home, and Wendy was relieved to have made the right decision. At the end she did have support from Palliative Care Nurses, and luckily, years earlier they had bought a "Home and Residential Care" Insurance policy which allowed Wendy to hire someone to come in for a couple of hours a day.
With regard to her Mom, although the dementia had probably been coming on for years, once diagnosed her deterioration was rapid, and she died about a year later. Wendy never considered moving her to a facility, managing to find Community Nursing – which they paid for until Dorothy was declared Palliative. "I knew how much she wanted to be at home when she died. I figured now that I was "retired" – with help, I could focus on her care." Although her siblings lived a distance away, a long-time family friend offered much needed emotional support.
Wendy continues, "What I did do was hook Mom up with an Alzheimer's Group. They were wonderful, with tons of on-line info for me, but an overwhelming workload. Only twice they visited Mom, and perhaps more importantly, found a "group class" that mom could attend. Mom wasn't a "group type person", but she did go a few times, and enjoyed it very much at the time. Once a day or two had gone by, though, she would forget she'd had fun, and would fight bitterly about going again. But when she did – she'd come home all smiles and be happy for a day."
"I did, however, visit a local residence with Mom, and although she was adamant she wouldn't move there, we had a fascinating conversation with the manager, who spent a considerable time talking to Mom about their music program. I was thinking in terms of a day "drop in" situation where she could go, say, every Wednesday and get out of the house for a bit." Wendy's grandmother had been a fine classical pianist, and Dorothy had inherited much of her talent; music was always part of their lives
Some time before Dorothy died, Wendy contacted her brother and sisters, telling them to come soon, while Mom still had most of her faculties. They did so and had a wonderful and fun visit. A few months after Roy died, in 2012, they had a celebration of his life. Dorothy had a grand time; saw all the family, sang and danced (in her wheelchair). Three of the band members playing at the party were doctors. When Wendy told one of them that her Mom had Alzheimer's, he was stunned. He said, ""She has ALZHEIMER'S? She taught me stuff about music I didn't even know… about sets I'd never heard of… about music changes I'm dying to try…"
A few months later, Dorothy passed away, with two of her daughters at her side.
Asked about her feelings after all those years of caregiving, Wendy replied: "It was a heavy load, but. I did the best I could for all three people I cared for completely. And I'd do it again in a second.
"But, I was furious at my government for not having the "heart" to support someone working so hard to be a caregiver, and ensuring a good end-of-life at home. It's hard to put someone "in a home" when that's not what they want – but there are few supports for alternative care!
"I was astounded, working for the government, that there is no "flexibility" to care for a parent or husband – there's CHILD care sick days, but no ADULT care sick days."
"There is no provision for a situation where one of a partnership is going to be put in a home, and most of their salary will be "garnisheed" by the government. It takes away the whole reason for working for a living, saving and coming to the time when you can claim a pension – the government takes the pension!
"I feel the medical system was awesome. The wonderful people (mostly) that I met as caregivers and nurses were outstanding. The lack of continuity and consistency in the Community care nurses was disconcerting. And very disconcerting for the patients! Never the same person two days in a row. Our physician, Dr. Bowler, actually visited Roy in the home weekly in the last few months of Roy's life. An RN also did so to ensure his dressings were properly done, and medications were appropriate – or if they needed adjusting, she did so.
"When Roy had to be in the hospital, there were times when, if I hadn't been present and knowledgeable about Roy's medical condition and medications, he would have been killed by the drugs being given to him. Medical records are often incomplete! And the nurses don't question anything.
"The "Home and Residential Care Insurance Policy" we had made an immense difference with Roy's care. The nurse and I drew up a "Plan of Care". Have a good knowledge of the medical condition – symptoms and medications. Keep lists and notes. Find a good family doctor – a clinic will NOT suffice in this type of situation. And most importantly, and as I was told by a local doctor, "get aggressive about your rights". Hard for me – I'm the least aggressive person I know! But I did when it was necessary.
"Maintain your sense of humour, and share it with the patient! They are still HUMAN! Play music they like, sing, dance, tell family stories. KEEP THEM UPBEAT and happy. You will be too, if you do. Don't have expectations they can't possibly fulfill. They are not "going to get better". But that doesn't mean you can't make life interesting and entertaining! Encourage them to cope. Tell them how well they are doing (at anything) and just simply keep things positive! (This is as much for them as for you!)
"Don't try and DO IT ALL. You need help to cope. Join an Alzheimer's group – both for the patient and for YOU the caregiver. You will need respite on occasion, and you might have to call on friends or family to help – DON'T HESITATE TO DO SO. The worst thing would be for you to burn out.   So – DON'T. You won't be helping them then! Use EVERY SINGLE community resource available to you; if you have doubts as to what they are, ask. Talk to the Hospital social worker, your own doctor; there are helpers out there. USE THEM. You will need them to maintain sanity.
"If a residential placement is needed, do LOTS of research – everything from personal "beefs" (online) to talking to each and every one of the local residences. Visit them – get the feeling of what's going on. Ask to talk to the management, and ask questions that are of concern to YOU and your PATIENT. Visit them… smell them, ask to stay for a meal, talk to the person running the exercise programs. Check (most importantly) what the patient/worker ratio is. And take your patient if you think there's a chance they might stay there. Give them a chance to have input…
Be kind to yourself. If you make a wrong decision, you simply did the best you could do given the circumstance. Nothing is perfect in this world. Use opportunities to rest yourself. Use the resources that you pay taxes for. Call on family and friends to fill in for you when they can. Insist they maintain contact with "your patient" whether they want to or not… maintaining a semblance of a normal life is important to everyone!"