Key Findings
 July 14, 2015: CARP members identify as being LGBT at about the same rate as the general population and the vast majority know someone who is LGBT, and more than half know someone in a same sex marriage. Most LGBT members are married. Very few know someone who is LGBT and is also in care.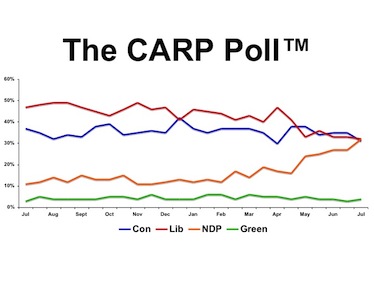 One half think that LGBT seniors suffer from discrimination "sometimes" and just fewer think it occurs "frequently", and both ageism and homophobia are seen as problems for these seniors. While most members think LGBT seniors will suffer the same problems as others as they age and in care, as many as one third of members think LGBT seniors are vulnerable to discrimination and bias by staff or residents in care.
It is agreed that LGBT seniors have a harder time than younger Canadians who come out in more accepting times, and it also agreed that these seniors must be free to express their identity in care. More acceptance in society at large is seen as the best route to integrating LGBT seniors in care facilities, followed by sensitizing staff and residents to the LGBT life experience and the ability to date and have relationships.
Inclusive and welcoming housing (and care facilities) are seen to be a problem for LGBT seniors and awareness building and support groups are recommended to mitigate this, as is a welcoming community of other LGBT seniors.
The three leading parties are now exactly tied in member preference with one third of the vote each. If no party wins a majority, members would like to see a Liberal/NDP coalition, followed by a Conservative minority, a Liberal minority or an NDP minority.