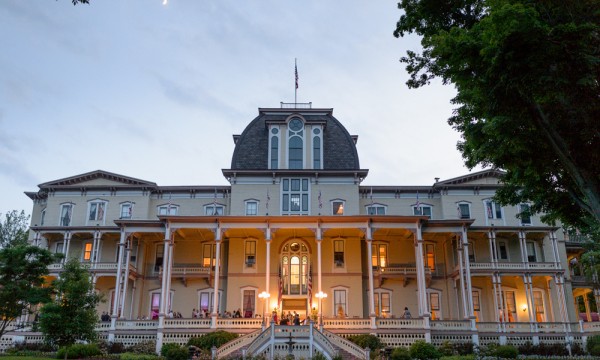 In 1985, a year after we moved from Montreal to Toronto, a friend called and invited us to spend a few days in Chautauqua, where she was teaching that summer. "What's Chautauqua?" I asked. "And where is it?" A later publication called it "An American Utopia", and that just about describes it. It's located about a three and-a-half hour drive from Toronto; south of Buffalo you turn east at a town called Westville, drive past Mayville and a few minutes later, there you are. Entrance is by gate pass, purchased in advance or at the gate, which gets you into most – but not all – activities and in and out of the grounds. It's called the Chautauqua Institution, but it doesn't feel institutional – more like summer camp for grownups. It also does provide summer camp for kids.
When I say "Chautauqua", many people recall hearing parents and grandparents talk about traveling tent meetings, where the community would gather to hear lectures, plays and music. Actually, these were inspired by the Chautauqua Institution, founded in 1874 by Lewis Miller, a businessman, and Methodist Minister John Vincent, as a training ground for Sunday School teachers. During the last 141 years since, it has expanded in multiple directions – wide-ranging lectures, two symphony orchestras, ballet performances, outstanding theatre and opera, art exhibitions, and dozens of courses ranging from ART right through to almost every letter of the alphabet; and although there is still a substantial religious component, the focus is ecumenical, with almost all religions now represented and open to everyone.
Added attractions: a beautiful lake, eight fabulous har-tru (clay) tennis courts as well as a golf course; probably the friendliest people you'll meet anywhere (outside of Canada, of course), who will engage you in conversation even if you've never met them before; turn-of-the century architecture, gorgeous flowers, and several hundred students from all over the world, studying art, ballet, music – voice or instrumental; and the movie theatre shows a lot of the good ones you've missed. There is both a professional and a student orchestra, and they are both so good you would be hard put, sitting in the Amphitheatre several evenings a week, to know which one you're hearing. The opera and the voice students often moonlight in late evening cabarets at the Lenna Concert Hall, also the home of Monday afternoon chamber music concerts.
The Chautauqua Daily keeps you up-to-date on the events of the day, plus your neighbours who get wind of the extras that pop up in various venues, including outside on Bestor Plaza, in the centre of "town".
As you will have guessed, we accepted the offer, and we were hooked. As you read this, that's where I am.
The nine-week experience is divided into themes, beginning this year on June 29th. First week explored 21st-Century Literacies, followed by Boys will be Boys, then Men, where experts discussed how to "raise" a healthier male population; Week Three dealt with the tricky subject of Immigration worldwide. I began this year's sojourn with Week Four: Irrationality in which we pondered why we so often act in ways that defy our best interests, and even contradict our announced intentions. Week Five suited me just fine – Art and Politics – in as much as I'm a writer and unofficial political junky. Coming up next week is Vanishing. That promises some serious detection work into history, anthropology, ecology, technology and ideology to discover what we once took for granted, that no longer exists, and what is about to vanish.
By Week Seven I will be back home, but Chautauquans will be Redefining Europe, and then will have the opportunity to discuss The Middle East Now and Then, ending the season with Creating Healthy Communities
Bike-riding and walking are the main modes of transportation. Unless one has a handicap sticker driving is discouraged – except to unload cars or to pack'em up. There are special buses and elongated golf carts that pick up those who are too tired, or too rushed, to make it to the next event on foot.
Did I mention the houses are turn-of-the-century, or even earlier? New buildings must conform to architectural standards so they, too will feel at home in the surroundings. Almost all buildings sport balconies, where you can catch the breeze from the lake. Because many have been renovated a number of times, you might find sealed doors which lead nowhere, apartments which resemble a string of railway cars, and other strange phenomena. The Institution publishes a list of accommodations, which range from the high end Athenaeum Hotel, where the long, long balcony, replete with wicker rocking chairs overlooks the lake; through various sizes and shapes of apartments and rooms, including many operated by religious organizations. Many people book year-to-year to ensure they'll have a place to stay.
Even transients like me can join the library, book time on a computer, read daily newspapers, or – if I had a lap-top – avail myself of the Wi-Fi.
In 1999 to celebrate the 125th anniversary, the American writer and social historian, Jeffrey Simpson, was commissioned to write a history of the institution, which he titled An American Utopia. His very readable account is enhanced with both recent and black-and-white archival photos, which give you a real taste of the flavour of this remarkable place. PBS filmed an hour production, which couldn't cover every aspect, but which also provides a close look at Chautauqua.
One more thing: if you go there, don't forget to take cushions. Why? Although some of the newer buildings have padded seats, the 6,000 seat Amphitheatre where you'll go for morning lectures and evening events, plus the Hall of Philosophy, the outdoor afternoon venue, all have hard, very hard, wooden benches, probably also dating from the turn of the century. The fact that they're old, doesn't make them soft. So, make a note: take your cushions.
And yes, I have booked for next year. If you want to know more, take a look at www.ciweb.org