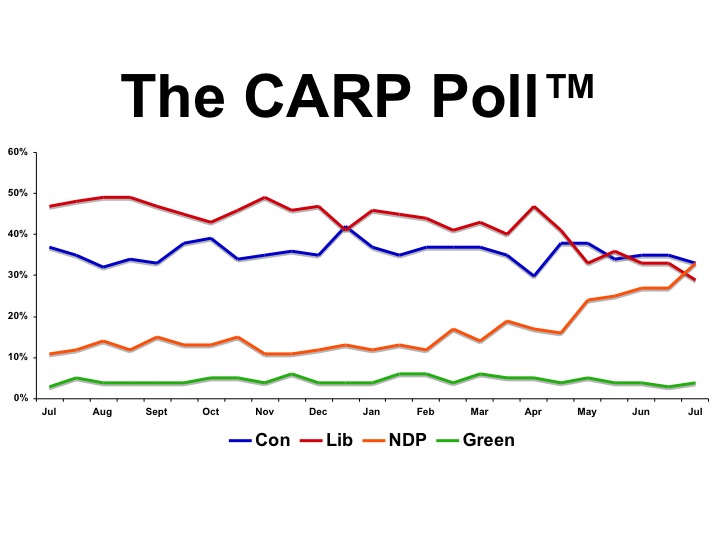 Key Findings
August 24, 2015: Members who answered the poll joined CARP, on average, 10 years ago, for the advocacy, not the benefits, and renew because of the advocacy, not the benefits. Members who might not renew cite cost and value as reasons, but the vast majority are likely to renew and will recommend to family or friends.
While members who take the poll would like to see travel and retail benefits if possible, they are interested chiefly in advocacy, and want to see more of it, and reports on what advocacy has achieved. Most members who open the newsletter have had their expectations of CARP met.
Members get most of their news from TV and newspapers, followed by the internet. More than half use Facebook, few use Twitter, but very few follow the CARP accounts. Members who have called in to the office are satisfied with the outcome. Most say they get the right amount of material and communications from CARP, and the favoured slogan for the organization is "Thriving As You Age."
Members live chiefly in Ontario, are about 70 years old, are married, are college educated, live as couples and have high household incomes
Member Characteristics
Those who complete the poll have been members for, on average, 10 years, almost all will renew their membership, and most initially joined (and renew) for the advocacy, not the benefits or chapters or magazine. Advocacy becomes more important than initially, while benefits and the magazine become less important to renewing. Renewal is usually for one year.
If members were not to renew, it would be a cost or value issue, not so much a disagreement with CARP's stances on issues. Those who complete the poll do every one, or most of them, and this applies to opening the newsletter initially as well. The vast majority will recommend membership to friends or family. The vast majority likes the sense of belonging to a very large organization with 300,000 members.
What Members Would Like To See
Benefits members who take the poll would like to see included travel, retail and home and auto insurance discounts. The CARP Poll™ is the newsletter content most members who read the newsletter look at first, but it is News You Can Use they find most useful, followed by research reports and briefs. Topics they want to see more of in the newsletter focus on advocacy news rather than lifestyle or benefits news. Including more advocacy would incrementally increase the newsletter readership.
The most important thing CARP has done for poll responders is lobbying governments, and reporting the results and issues back to members. Three quarters of members who open the newsletter have had their expectations met by CARP. Two thirds say the best thing CARP can do to help them thrive as they age is to continue advocating seniors' issues.
Communications
TV and newsprint are the two most important sources of news for members who open the newsletter, but the internet follows close behind. More than half have a Facebook account, which half access daily, but far fewer have a Twitter account. Those with each are not very likely to follow CARP accounts. A significant minority has called in to CARP and the vast majority of these were correctly handled. Half say current CARP communications work well while a minority say they want to be assured of talking or e-mailing a live person at the office. On average, members who do the poll want to hear from CARP about once a month, and what they want to hear is information on advocacy issues and on CARP successes. Three quarters say the amount of material they receive from CARP is appropriate, while a minority receive too much. Most agree they had enough choice on how much material to receive when they signed up as members. Members who open the newsletter prefer "Thriving As You Age" as a CARP slogan, followed by "Aging With Dignity" and "Redefining Aging"
Demographics
Most members live in Ontario, followed distantly by BC and Alberta. More of those who respond to the poll are male than female, and three quarters are married. Members who respond to the poll are, on average, 71 years old, the majority have university or college degrees, live in 2 person households with no adult children and have household incomes of, on average, $130K, which is more than twice the average household income of ~$60K, and twice the level noted in our last member profile poll.
Click here to download the full CARP Poll Report, complete with tables and response breakdowns
TCPTG12345