Join Harold for the Pacific Spirit Park Walk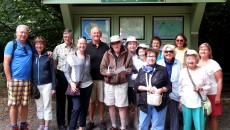 Pacific Spirit Walk

Wednesday Sept 9,  2015 at 10AM.
Pacific Spirit Regional Park, various trails.
Meet at 29th Ave and Imperial Road entrance, where parking is available, see P on Map
Length approx. 2.0 hours
Average difficulty, elevation, flat, lots of tree coverage
Dog friendly
Bring water, hat and be sure to bring a friend!!!         Look forward to seeing you!