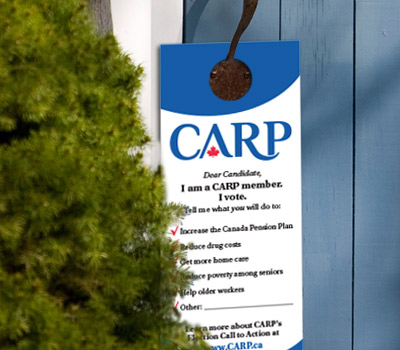 CARP members vote, and politicians across Canada know it. As you gear up you make your voice heard on Election Day, you can download and print CARP's door hanger to remind candidates that your vote matters.
When you place the hanger on your front door, candidates who come knocking will see that you're a voting CARP member who cares about issues that affect all aging Canadians. You can ask candidates how they plan to address the five priority issues outlined on the door hanger:
Increasing the CPP
Reducing the cost of pharmaceutical drugs
Creating greater access to home care
Reducing poverty among seniors
Helping older workers
This election is your opportunity to demand real change and hear what your representative promises to do about these important issues. Your voice will be heard, and you'll get answers that will help to inform your voting decision.
Door hangers can be picked up at local chapter events, or you can download a printable version here. We encourage you to print a copy, cut it out, and place it on your door. You can even print multiple copies and share them with family and friends. The door hanger is a real conversation starter during election season. And after Election Day, you can flip the door hanger around to display a message discouraging delivery of junk mail.
To boost political engagement and have some fun, we encourage you to share your pictures of CARP's door hangers on social media. You can "like" us on Facebook and follow us on Twitter at @CARPAdvocacy and @CARPNews. Feel free to tag us in your tweets, and use the #CARPVotes hashtag!
Let your candidates know that you vote and that you're part of the movement to improve the lives of aging Canadians. After all, older Canadians are the most committed voters! CARP members care about the futures of their children and grandchildren, and you turn out at the polls every election to exercise your democratic rights.
Thank you for making sure Canada continues to be a great place to call home.
September 10, 2015
Click here for more information about local chapter events.
Click here to download CARP Door Hanger and share it widely!
Click here to follow @CARPAdvocacy on twitter, be part of the conversation!
Click here to follow @CARPNews on twitter, to find out more about local events.