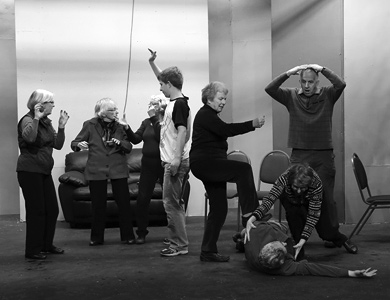 Most universities measure success by the number of successful graduates. ACT II at Toronto's Ryerson University is unique in several ways – primarily because most of its 'graduates' refuse to leave!
In 1991 Vrenia Ivanoffsky Founder and Director of what has since become The Estelle Craig ACT II Studio, was teaching in the theatre department at Ryerson, when she was asked to teach an acting class for seniors as part of the University's Continuing Education program. As Vrenia relates it, her first workshop bombed. "I was so respectful of age we didn't have much fun. In my second workshop, the students wouldn't let me kid-glove them, so that was slightly better. By the third round, I'd realized that anything I would do in any other theatre school, I could do at the Studio – and more because these students brought so much more to the table."
That was the genesis of ACT II. But how did Vrenia, with a graduate degree in history, an interesting, fulfilling job with the Ontario Heritage Foundation wind up labouring in the precarious environs of Canadian theatre? Required by her job to participate in conferences and deliver speeches, she decided some actual training would be helpful and enrolled in an acting course at the Sears and Switzer Studio. During the first session she felt so alien from the process that she was tempted to put on her coat and walk out. Fortunately, she fought the impulse, stayed and, she says, "The experience changed my life." Then, a brochure she picked up at the Alumnae Theatre led her to explore movement and dance in theatre in a course given by Glynis McQueen Fuentes.
This was in the early 70's, a time when in Toronto and other Canadian venues, home grown theatre was coming alive. "It was a very exciting place." Vrenia recalls, "and the arts and other cultural initiatives were receiving support from The Canada Council and other government sources".
But probably the definitive Eureka Moment came when she was about to embark on a visit to Paris, a friend asked to drop off a package to the studio of Jacques Lecoq, the legendary French actor/director/teacher who developed a unique style of integrating text, physical movement and masks into performance. She was hooked, and returned for two years to study at Lecoq's studio.
Heritage Ontario had lost a valued colleague, but the broader world of theatre had gained an inspired and inspiring devotee. Not only had the experience in Paris offered her training, but the philosophical foundation of that training has informed her way of life and her way of teaching: always inclusive, ever-expanding. This, it turns out, is precisely the way to reach mature students. In Ivanoffsky's view, older people have an expansive view of life by virtue of having lived. This does not mean to say they are necessarily wiser – although, of course, many are – but the accumulation of experience adds resonance and depth to the way they see themselves and others.
Her philosophy and her work through the years was recognized in 2014, when Theatre Ontario presented her with the Maggie Basset Award, given for her sustained and significant contribution to the development of theatre in Ontario.
So, who are these students and what do they do at the Estelle Craig ACT II Studio? They are both men and women, the youngest 50 and the oldest in their 90's. Some have been members for almost as long as the Studio has existed. They come to study acting, voice, improvisation, movement, camera work, playwriting, directing, scene study, stage craft, writing and even clowning.
The Studio is part of the G. Raymond Chang School of Continuing Education, and welcomes students of all levels of experience to participate in a positive and supportive community. "People feel like 'family'," Vrenia remarks, "Because they know and trust each other, they are free to come up with all kinds of challenging ideas that can lead to innovative programs and plays."
Backstage work, of course, supports what happens onstage, plus it's a way of easing into membership by helping with props, sets, costumes or front-of-house. Most training is on-the-job, but there are occasional workshops on backstage skills.
Have a play you'd love to see on stage? You start with a short course in playwriting, and when you next come out from behind your computer with several pages of your new script, you can pop in to the monthly meetings of the Reader's Circle to try your opus out on fellow playwrights. Then as those pages develop into a complete script, you submit it for a reading at one of the Matinees held seven times during the school season to an audience of your peers. Next step could be having your play presented at the Annual Theatre Out of the Box Festival, where acting and directing students work with plays written by playwriting students.
Additionally Moving Scenes includes a number of touring shows, performed in community, social and university settings. Many of these are collaborative creations on subjects such as elder abuse, dementia, breast cancer survivorship, gender, and other social issues, initially involving research with experts in those fields.
All of this activity requires actors, of course, and so you can choose from a great variety of acting classes, from beginners through to advanced, from first tentative steps, to scene exploration, improvisation and even how to tackle Shakespeare monologues.
Over the years Ivanoffsky has gathered outstanding faculty who mirror her philosophy of theatre. There are many other successful examples of Later Life Learning provided across this country, and all should be applauded. However, when it comes to the Estelle Craig ACT II Studio, Vrenia says, proudly, "At a recent conference on continuing education, attended by educators from across North America, we were declared "The Gold Standard".
Now, that – plus the enthusiasm of the students, themselves – explains why 'graduates' keep coming back for more. If you'd like to check it out, you can find the list of courses