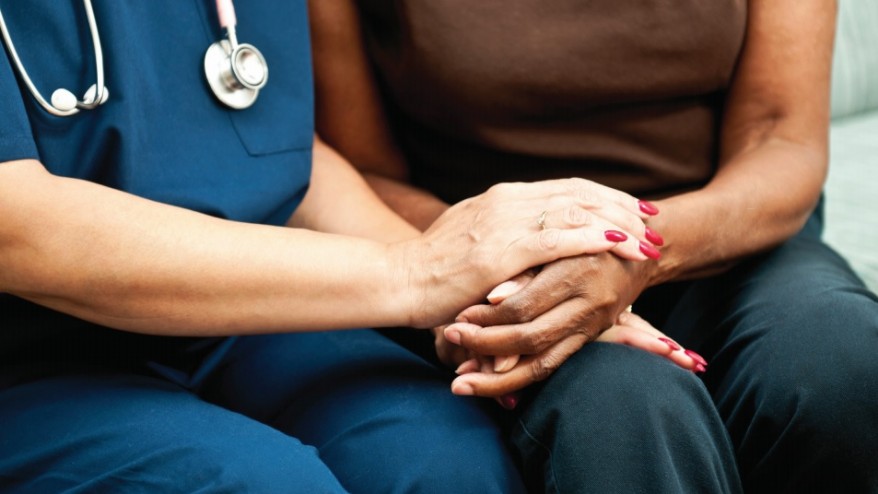 In 2010 the New Brunswick Palliative and Hospice Care Association (NBPHCA) developed a far-ranging Provincial Framework to help the province improve palliative care. Based on extensive work by the Canadian Hospice Palliative Care Association, and the Nova Scotia Hospice Palliative Care Society, their aim was to improve standards of care throughout the province. In New Brunswick, the Regional Health Authority (RHA) is responsible for delivery of palliative care; and within each region, care had developed differently, based on resources available.   While each hospital had some available palliative care beds, they did not always have available the necessary support staff, such as physicians, nurses or others trained in that discipline. While there were provincial guidelines for delivering care for those still able to live at home, there were simply not enough health professionals available to fulfill that need either.
There were several key components to the plan. For example, in order to access services there had to be a single entry point.   Not only physicians but nurses and other members of the health care team, as well as nursing homes, for example, would know where to direct the patient so ensure there would be no unnecessary delays in receiving needed services.  Also, in order to ensure that a care plan would be developed and continuity of care provided, it was recommended that a coordinator should take on that task. They recognized how important it was to recognize the needs of both the individual and the family, and recommended that they were to be included in all planning and decisions made on their behalf. They also envisioned a core consult team, which would include a palliative care physician, nurse, pharmacist and a social worker, and that patients would have access to that team in a hospital, at home or in a residential facility.
Patients and families would be supported by physiotherapists, homemakers, dieticians, and others as needed, plus volunteers provided by the community. Bereavement and spiritual support would be available, if wanted, for both individuals and survivors.
In order to track progress and delivery of programs, each zone would collect standardized data on a regular basis for evaluation by the Department of Health.
While there has certainly been improvement in integration and delivery of palliative services, New Brunswick – like all provinces and territories – is still grappling with uneven delivery across the various health zones. NBPHCA, working with volunteers has managed to spur the provincial government into some recognition of the need for funding, including for residential hospices dedicated to providing a comfortable, pain-free home-like setting, where families are welcome at all times.
So far, the most ambitious and successful achievement is "Bobby's Hospice", the first stand-alone residential hospice in Atlantic Canada, which opened in 2010, with funding from the Government of New Brunswick. Named after Catherine "Bobby" Lawson, a volunteer for more than 20 years with Hospice Greater Saint John, it first opened in 2006, providing day services and socializing for those with terminal illness, but always with the hope that it would one day provide a full range of residential services for those no longer able to manage at home. It is located at 385 Dufferin Row, Saint John, NB.
It has 10 private bedrooms, four family bedrooms, living rooms, kitchen, a dining room, playroom, onsite chapel and a garden. The emphasis is on pain and symptom management, with round-the-clock care delivered by doctors, nurses, volunteers and other staff.
Not only are patients and families much more comfortable than in a hospital, the availability of the Hospice has reduced at least some of the pressure on local hospitals. Sandy Johnston, Chief Executive Officer reports that every year the Hospice offers quality end-of-life care to 110 people who would otherwise occupy acute care – and costly – hospital beds. In fact, since 2010 more than 530 patients have been care for, with an average stay of 24 days.
Fifty percent of admissions come directly from home, by-passing hospitals; this is estimated to have saved more than 14,000 acute care beds at the Saint John Regional Hospital during the past five years. The actual cost savings for the government are significant: at Bobby's it is $200 per day, as opposed to an estimated $1,000 per day in an acute care hospital; a saving of some $14 million. Private insurance plans also save the governments significant amounts for medication.  The collaborative team approach, which includes out-patient and in-patient services, also ensures the patient is in the right bed at the right time, with the right care provider. This also reduces visits to Emergency Rooms, as well as costly and unnecessary interventions.
The province contributed $730,000 in 2014; money is also raised by the Hospice Shoppe, which offers mainly donated items; plus donations to The Hospice Legacy Foundation, established in 2012.
Another initiative in New Brunswick is that being undertaken by Hospice Greater Moncton. It is also a registered charity, established in 2004, and part of a provincial network of residential hospices, within a palliative framework with the provincial government. HGM is now in the throes of a plan to establish a 10 bed community residential hospice on Pleasant Street, on land donated by the HunLewSyun Lions Club. The aim is to have it up and running in two years. Although HGM does not yet have provincial funding, they are campaigning for inclusion in the next budget. Main sources of income are the Hospice Shoppe Boutique, community support, donations and fund-raising events.
Currently palliative patients are being cared for at home, helped by staff of HGM and a core of 30 volunteers in the Greater Moncton and Sackville region, offering support to both patients and families. For those unable to be cared for at home, the Moncton City Hospital has a seven-bed palliative unit and the Dr. George L. Dumont, a six-bed unit. However, demand far exceeds capacity.
Another achievement in the Maritime Provinces is that of Hospice PEI. That organization is currently involved in a three-year plan to increase both residential and home care in Prince Edward Island. This initiative is based on The Way Forward, a collaborative national initiative supported by a one-time Government of Canada grant of $3 million, and encompassing 37 organizations which make up the Quality End-of-Life Care Coalition of Canada and the Canadian Hospice Palliative Care Association. It is a roadmap for further development of an integrated palliative care approach.
After much delay, in April, 2015, their new $5.6 million Palliative Care Centre opened in Charlottetown, close to the Queen Elizabeth Hospital. The 10-bed centre, nestled in a wooded area, offers 24 hour medical support, plus a variety of services: therapeutic touch, music therapy, and the opportunity for residents to participate in programs available to out-patients, such as arts, crafts and cooking.
Along with the out-patient clinic, the venue also provides respite care, as well as a room for families to meet for planning and counselling, a family lounge and a chapel. Last year 485 Islanders received palliative care at the end of their lives, including 66 who were able to remain at home until the end.
As in every province, volunteers are vital to palliative care services, along with governments. In PEI, such support in each community is available through the Provincial Integrated Palliative Care Program. The website provides links to a wide variety of resources, as well as practical information about Advance Care Planning, and how to access needed services. This can be done through a doctor or another health care provider, or directly by individuals or families. Because of financial support by Island business, grants and donations, Hospice PEI is able to offer its services at no cost to participants.
While provision of palliative care in Canada varies from location to location – and is still not adequate –the advocacy of national and provincial palliative care associations is beginning to attract the attention of governments throughout the country. Their small professional staffs, plus hundreds of dedicated volunteers continue to advocate for the best possible deliverance of end-of-life-care, no matter where one lives in this country.