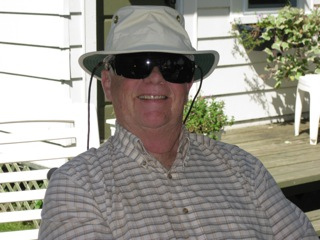 The staff of the CARP National Office is saddened at the news of the passing of Robert J. (Bob) Geddes, immediate past Chair of the CARP Peterborough Chapter. Bob's obituary and details of a celebration of his life follow below.
His family asks, "to honour his memory and support his legacy of giving back, Bob's family would appreciate if you would smile at your neighbour, lend a helping hand, and show kindness to one another." Even if you did not have the pleasure of meeting Bob, that might just be good advice for every one of us.
Bob's commitment to giving back and his community philanthropy was noted in a feature piece in the Peterborough Examiner in 2012.
-Anthony Quinn
Director, Community Development
GEDDES, Robert (Bob) James – Oct. 29, 1939 – Nov. 19, 2015. Surrounded by family and peacefully, in his 77th year, Bob passed away on November 19th at the Peterborough Regional Health Center. Although unexpected, Bob was surrounded by love as he bravely fought through his final day in order to give his family the opportunity to say goodbye.Having recently celebrated his 50th wedding anniversary, Bob is survived by his beloved wife, and best friend Donna (née Turner) 'his bride'. Winning her heart, he described as 'the best thing I ever did!' Bob loved unconditionally, his 5 children and their chosen partners. He was devoted, generous and full of humour. Honoured to call him Dad, his passing is a profound loss to Scott, Ainsley & Barb, Mark & Johanna, Charlie & Crystal, and Courtney & Mark MacPherson.
An adoring Papa, his final years were so enriched by doting on his 7 grandchildren: Sarah & Hailey Geddes, Laughlin, Turner & Maggie MacPherson, and Brooklyn & Madison Geddes. Predeceased by his adoptive parents, James and Margaret (Craxton) Geddes and parents-in-law Donald and Doris Turner. He is survived by his sister Peggy Spratt and her family of Canberra, Australia, cousin Joan Osterland, of Mississauga, and so many other dear friends whom Bob loved as family.
Born, raised, and educated in Toronto, he graduated from Trinity College, University of Toronto, in 1962. In addition, he attended Queens University, Osgoode Law School and McMaster School of Business. Throughout university he spent summers in the Navy (UNTD Program) supporting and enriching his interest in the military, travel, and patriotism for Canada.
Bob completed his career as a Canadian Citizenship Court Judge. Welcoming new Canadians highlighted the proudest stage of his career, serving his role in defining the Canadian mosaic. He began his work on Bay Street with Wood Gundy and moved to Peterborough in 1968 to teach at Sir Sanford Fleming College, later becoming the Registrar. He was Executive Assistant to the Solicitor General in Ottawa then, Registrar of the Surrogate Court of Ontario.
Both a risk taker and entrepreneur, and never boring, Bob's career was punctuated by spectacular adventures including a year of traveling the world on his motorcycle, a fish & chips franchise and an elk farm to name a few. Upon retirement, he continued a lifelong passion for politics at the Municipal, Provincial, and Federal Levels. While a loyal Conservative, he would support and mentor aspiring youth from other parties in whom he saw potential. Proud member of the "Blue Machine Advance Team", Bob never missed a political campaign and was honoured to have traveled with Robert Stanfield, and former Prime Ministers, Joe Clark and Brian Mulroney.
He was devoted to his community and valued opportunities to serve with many organizations including The Red Cross, CNIB, Alzheimer's, and CARP. He was also a proud Mason & Shriner. Bob considered himself "Blessed" to be a Canadian, to have lived a full life, loving and being loved, and was grateful for his many opportunities to make this world a little better.
To honour his memory and support his legacy of giving back, Bob's family would appreciate if you would smile at your neighbour, lend a helping hand, and show kindness to one another. Friends will be received at ST. JOHN'S ANGLICAN CHURCH 99 Brock Street Peterborough on Friday, December 11, 2015 from 1:00 – 2:00 p.m. Celebration of Life to follow at 2:00 p.m. Reception St. John's Anglican Church. Online condolences may be made at www.highlandparkfuneralcentre.com