CARP Members are invited to CARP Etobicoke Travel Show sponsored by Cruise Holidays | Luxury Travel Boutique  at Lambton Golf and Country Club on Wednesday, February 17 at 6:30 pm.  More details to come.
Cruise Holidays | Luxury Travel Boutique has lined up several interesting suppliers to give presentations about their products and about interesting destinations around the world. One supplier that has agreed to come is G Adventures, an international tour operator based in Canada.  G Adventures has just signed a long term partnership with National Geographic to provide travel packages that are approved and supported by both companies as they explore the world.  The new partnership will launch in January 2016, so come out to hear more about this exciting partnership!
Other presenters will be Amawaterways, one of the premier river cruise lines, Just You Solo Travel experts, Insight Vacations a premium tour operator and Cruise Strategies representing Ponant and Windstar Cruises.
Each supplier has been asked to provide event promotions for CARP Members and friends that attend the show.  There will also be door prizes and refreshments served.
Lambton Golf and Country Club is private members golf club in the heart of Kingsway, Etobicoke and has free parking conveniently located close to the main club house.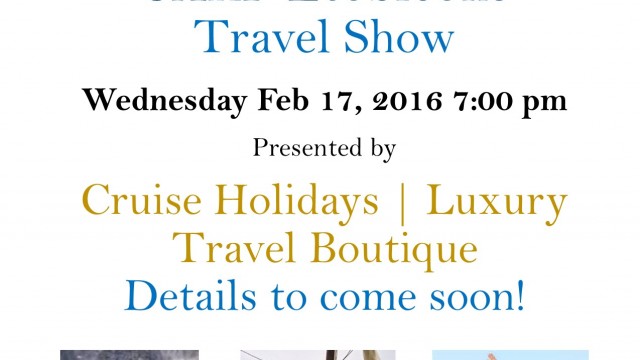 Call 905-602-6566 or contact Lola Stoker at Cruise Holidays | Luxury Travel Boutique by email at [email protected] for more information about the CARP Etobicoke Travel Show or to book your next cruise or vacation.
Cruise Holidays | Luxury Travel Boutique is Kingsway Etobicoke, Mississauga, Brampton, Etobicoke, Milton, Toronto cruise travel agency specializing in luxury travel, river and ocean cruises helping Canadian and US clients plan and book their cruise vacations 855-602-6566  905-602-6566