Information posted April 29, 2016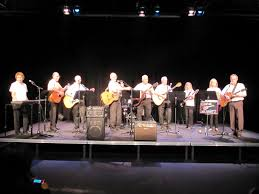 For our CARP Halton Chapter Community Meetings in May we invites you to join us at either Milton or Burlington for a fun social evening where we are delighted to feature Oakville's Rock'n'Seniors , the band that plays Rock'n'Roll, Country and Western and Pop  music from the 50's and 60's.
Our Social evening in Milton will be held on Wednesday May 11th  at the Milton Seniors Activity Centre, 500 Childs Drive, Milton.
Our Social evening in Burlington will be held on Tuesday May 24th at the Burlington Seniors Centre, 2285 New Street, Burlington.
We invite you to come and meet your Chapter volunteers and fellow members and their friends and to share in an evening of fun and entertainment.
Doors will open at both locations at 6.30pm. Following a few opening remarks from our Chapter Chair, Tom Carrothers, our entertainment will begin at 7.00pm and end around 9.00pm.
Please be aware that if room capacity limits are reached at Burlington we may have to restrict entrance in order to comply with building safety code regulations.
There will be a break at the midway point in the entertainment which will allow time to socialize with fellow members and to visit our sponsors.
As usual we will have a number of sponsors for both evenings. We will be very pleased to welcome them and we thank them for their support. They will have tables where you will be able to chat with their representatives and pick up additional information.
Sponsors: 
ListenUP Canada: providing individuals who have a hearing loss with the most professional, comprehensive and convenient hearing healthcare services.
Alert Best Nursing and Home Care: offers a wide variety of services, including: in-home nursing care; attendant care for persons with injuries, disabilities or chronic illnesses; palliative care; and staffing solutions for hospitals, long-term care facilities and retirement homes.
Canadian Christian Tours: a licensed TICO travel agency specializing in the 50+ generation. We organize day trips, multi-day trips, international trips and would love to help you book a flight, all-inclusive holiday, cruise, hotel, transportation or travel insurance.
Our Social evenings will conclude with a few closing remarks and our 50/50 draw. We encourage you to support this draw as proceeds help defray the costs of putting on our meetings.
Our meetings are FREE. Please support your Chapter. We look forward to welcoming all members and their friends.