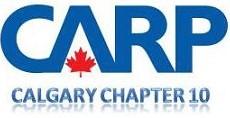 Upcoming Events
Annual General Meeting
You are invited to attend our Annual General meeting, Wednesday, May 25, 2016.
Location:  North Glenmore Community Association building located at 2231 Longridge Dr. SW Calgary,
Time:  1:00 – 3:00 PM, note a light lunch will be available prior to the meeting
While members of CARP Canada and other members of the public are welcome to attend, only members in good standing of the CARP Calgary Chapter are entitled to participate in and vote at the meeting. For further information on membership see the 'Did You Know Section' below.
Nominations for election to the Board of Directors are now open.  Board members must be members of the Calgary Chapter.  Nominations can come from any other member or one can self-nominate.  Please note, this is a working board, not a governance board.  Please contact the Chair, Susan Costello, to nominate a candidate for election at [email protected] or call 403-256-1181.
Speaker: 
Our speaker will be Deborah Prowse, the Senior's Advocate with Alberta Health Services.  She is looking forward to explaining her role and function to us. Deborah will share issues that she hears about from seniors and some of the ways she is trying to influence health care for seniors in the provincial system.
The Senior's Advocate helps people find health and seniors' services, programs, and appropriate places to address their complaints. Please note that she is also coming to hear what our recommendations for directions might be, but she will be unable to entertain individual stories in this presentation.
 Please register for our May 25th meeting:
Please let us know if you are coming to the meeting so that we can ensure sufficient food and seating is available.  This is important.  You can register in one of the following three ways:
Register online via Eventbrite
click Register (green button on the right-side of the screen), select the number attending (if more than one
click Checkout (green button on lower right)
type your First Name, Last Name, Email Address, Password (first time only; used to access your order e.g. in case you need to cancel)
click Complete Registration (green button)
check your email inbox for registration summary and event info OR
Send an email to [email protected]; put the number attending in the subject line like this: "rsvp 2 for May 25". OR
Leave a voice mail message at 403-256-1181; note that this is a message machine only and that no one will return your call, just say how many are coming to the May 25 meeting.
Event Sponsor:
We wish to thank Vector Energy Ltd for sponsoring this meeting.  Vector Energy is a wholly owned and operated Alberta company selling electricity and gas to homeowners and small business throughout Alberta. The company has been in operation for the past 10 years in Calgary offering consumers best rates and superior service. 'Find out about your energy choice options at http://www.vectorenergy.ca
---
 Future meetings of CARP Calgary
Please mark your calendars or enter the following into your schedule on your phone, tablet or computer:
September 28, 2016 – Speaker will be Carolyn Gee from the Alberta Motor Association. She will be speaking to the topic of "when we should hand over our car keys" and she will provide the latest information about road rules and regulations for older drivers in Alberta. Location to be advised.
November 25, 2016
March 29, 2017
May 25, 2017 – Also Annual General Meeting
September 27, 2017
Past Events
The presentation at our last general meetings, entitled "Your Retirement Paycheque", was a huge success.  In fact, we had to turn away people due to lack of space!
We want to especially thank Rebecca Graham for an outstanding presentation.  Rebecca is a Certified Financial Planner (CFP) and Registered Retirement Consultant (RRC).  She covered topics such as sources of retirement income, tax-saving strategies, minimizing risks, and income changes as we age.  For those seeking a copy of her presentation, it can be found at https://www.slideshare.net/secret/qGw0Q0cLpUfB0q
We are grateful to Stage West Theatre Restaurant for sponsoring our March General Meeting. Check out the upcoming shows at http://www.stagewestcalgary.com
Sandie Tomlinson was on-site at the meeting to interact with our members. Stagewest also awarded Kathy L of Cochrane with 2 tickets to an upcoming Stage West Theatre production.
Winners of the door prizes were: (a) The 1-year CARP National Membership, sponsored by Canadian Deposit Insurance Corporation (CDIC) was won by Debbie R. of Calgary, and (b) Easter basket was won by Ian D. of Calgary.
---
Thank you to our Sponsors:
In addition to our event sponsors, we wish to thank Maison Senior's Living on Elbow Drive for hosting our board meetings in February, March and June.
Thank you too to Chartwell Fountains Senior's Residence in Mission for hosting our board meetings in April and May.  As our National Corporate Sponsor, Chartwell provides the first-month rent free at their residences to CARP Canada members.
We encourage you to see what these residences have to offer our members. We have been very impressed!
---
Message from the Chair
I want to personally invite you to attend the upcoming Annual General Meeting on May 25th.  This is your chance to learn more about the operations of your CARP Calgary Chapter.  Deborah Prowse, our educational speaker, will be very interesting to hear as well.
Planning for meetings/events for our members for next year is well underway.   We hope to have a fair in Spring 2017, but this is dependent on help received from our members.  We will continue to move our meeting venues around the city, as CARP members live in all quadrants of the city and beyond.
With spring here and summer close behind, I extend warm wishes to you for an enjoyable spring/summer season.  Calgary is a wonderful place to be, especially when it is warm and the outdoors beckons.
---
Have your say
CARP National has asked all Chapters to assist them with the advocacy work that they do.  The research on decision making has shown we make decisions for emotional rather than rational reasons (frequently without even realizing it).  We then use our rational brains to provide logical explanations for the decisions we've already made! Therefore, when we want to change people's minds, we must start with reaching their hearts. True stories about people overcoming adversity are powerful ways to do this.
CARP National is looking for stories from older adults in Canada who:
Have had a direct experience with fraud or financial advisor malpractice
Are struggling to live on public pensions [CPP, OAS and GIS]
Are having difficulty accessing needed healthcare
Are unable to pay for needed prescription drugs
Are unable to receive needed homecare services
Are experiencing difficulties as a caregiver providing care around the clock to a loved one
Are a survivor of elder abuse or had indirect experience with elder abuse
Have been directly impacted by someone close to them who has dementia
Can describe how their community, town or city considers the needs of it's residents throughout their lifetime and especially encompasses infrastructure that is accessible and age considerate
Are having difficulty accessing housing that meets their personal and financial needs
Have had successes and challenges when looking to work past mandatory retirement age of 65 for financial or personal reasons
Can share considerations or experiences with the end of life care of someone close to them
If you, or someone you know, have a story to share regarding the following advocacy areas, please contact [email protected].  It is possible that a story can be anonymous although the impact of the story is much greater if names are used.
---
Calgary Seniors News Roundup
Age-Friendly Calgary is an initiative of The City of Calgary and community partners to prepare Calgary for an aging population. Collaborative work is taking place in the following six local priority areas:
Access to information and services
Community support and health
Housing
Participation and inclusion
Prevention and response to elder abuse
Transportation and mobility
Every year there will be a report back to the community on the progress of the initiative during Seniors' Week. This year Seniors' Week takes place from June 6 to 12, 2016.
Please visit http://www.calgary.ca/agefriendly or call 311 for more information about Age-Friendly Calgary and how you can be involved.
May is Speech & Hearing Awareness Month
Hear Alberta is asking you to nominate your favourite places in Calgary where the volume is not too loud. Categories include "Best Safe Sound" Restaurant, Family Fun Venue, Fitness or Recreation Venue, and Other. Nominations end midnight May 31st and are eligible for a prize draw! http://hearalberta.ca/safe-sound-awards/
---
Resources and Events of Interest
CARP Calgary's Facebook Page: We plan to continuously provide you with information about Facebook and tips on how to use it.
Facebook is the most popular social media site and senior citizens are the fastest-growing demographic on Facebook.  Older adults often join initially to keep in touch with relatives as well as friends, school mates and much more.
It is an excellent tool to learn about topics of interest, to share photos and videos, and to be part of a community and be socially connected.
There are lots of resources on-line which teach you how to use Facebook well and appropriately.  One of the best is Techboomers – a free Canadian-based, educational website that teaches older adults how to use the most popular and trusted websites and Internet apps.  Go to: http://techboomers.com
Dementia Advice through Health Link: Dementia and Alzheimer's are two the biggest worries for us and our loved ones as we age.  Alberta Health Services has set up an excellent service where patients, family and/ or their caregivers can call 811 and be connected with a Dementia Advice Nurse for expert advice.   For further information, see:  http://www.albertahealthservices.ca/scns/Page12938.aspx
Puppetry:  Connecting Generations is the theme for WP Puppet Theatre's Puppet Power Conference, May 28 – 29. Keynote speaker Karrie Marshall's talk is entitled, "Connecting Through Creativity & Joy: Exploring the Power of Puppetry in Dementia Care." She'll be inviting us to "look beyond the diagnosis of dementia to celebrate all that is possible when we engage in humour, creativity and puppetry."  For further information click on  http://wppuppet.com/puppet-power
Third Age Commons Program:   Mother's Day Tea and Bake Sale:  Good Companions 50 Plus Club is hosting  a Mother's Day Tea & Bake Sale on Saturday, May 14th, 2609 – 19 Ave S.W. /Calgary.    The bake table opens at 1:00 PM and Tea Time starts at 1:30 PM until 3:00 PM. The cost is $6.00 per person.  Contact them at 403-249-6991, or email  at [email protected] for more information, or visit their website at http://www.gc50plus.org.
National Wellness Survivorship Project:  TrueNTH Lifestyle Management (LM, ) program promotes active living and wellness for men living with prostate cancer through community programs and online resources, including 12-week programs offered in partnership with City of Calgary Recreation. It is supported by Prostate Cancer Canada (PCC) and the Movember Foundation. For further information click on: http://lifestyle.truenth.ca
Senior's Week: In 2016, The City of Calgary, in conjunction with the Seniors Advisory Council for Alberta, will celebrate Seniors' Week June 6-12 to acknowledge the contributions of seniors to our communities.
Whether it's their time, talent or life experience, seniors' contributions are at the heart of many community programs and charitable organizations that improve quality of life for Calgarians. The City of Calgary supports seniors in many ways throughout the year; learn more at http://calgary.ca/seniors.
---
Did You Know
CARP Calgary: Here's what to you need to know about purchasing a membership to CARP Calgary and CARP National:
Members of CARP Calgary can attend our meetings at no charge and can vote at the AGM
The fee for non-members to attend a CARP Calgary meeting is $2.00, payable at the door
You may purchase a membership to CARP Calgary at any meeting.  The dues are $6 per year
CARP Calgary members must first be members of CARP Canada. 'You can join at http://www.carp.ca/howtojoincarp/ or phone: 1-800-363-9736
Scams: We have written about scams in previous newsletters.  Here is some further information of interest: The Canada Revenue Agency phone scam was the top scam in Canada in 2015. The Calgary Police Service is leading a Canada-wide investigation. The Kerby Centre has partnered with the Better Business Bureau to provide seminars for seniors.  For further information see: http://calgaryherald.com/news/local-news/fortney-revenue-canada-scam-shows-fraudsters-getting-bolder-nastier
CARP Website: Our own Board member, Greg McCaffrey, is a member of the advisory group to redefine and update the CARP National website.  Representatives from chapters across the country will provide input on what the regional chapters would like to see on the website and will test the new design.