Author & Photo credits: Beth Pollock
Prince Charming had nothing on the charm of Prince William County, Virginia.
If you're driving south to Myrtle Beach or Orlando, Prince William County is an ideal place to stop for the night en route. And once you get there, you may find yourself making plans to stop again on the way back.
Here's some of what you'll discover.
Little Goat Farm at the Lake
The first venue that won me over was Little Goat Farm at the Lake.
Susanne Marsh, owner of the Little Goat Farm, is absolutely delightful. I asked this former government researcher how she got into goat farming, and she said it was by accident. She had sold some real estate, "and had 45 days to find property or pay capital gains. I found a pre-foreclosed house on some wild and overgrown land. The idea was to fix it up enough to sell … and move to a warm climate like other seniors my age."
The buildings needed the most urgent attention. Marsh bought a couple of hens, and loved gathering their eggs. Then one night a fox broke into the chicken coop and killed one of the hens. "That day I bought my first chain saw," she said. "I used it to make a coop out of pallets and wire. I felt empowered!"
She needed help clearing the land of bramble and weeds, and couldn't afford to pay anyone, so she bought foraging goat livestock to clear it for her. "One day, a family drove up and begged to see my goats. They handed me a twenty-dollar bill, so I said yes, thinking they were crazy to pay anything to see my motley crew," she said. "They soon brought an older woman they called Auntie out of the van, and it became apparent she was blind. She heard the goats and started laughing, which delighted me. I caught one of my goats and brought it to her, and she cried with joy while petting her."
The next day Marsh made a sign and put it at the end of her driveway.
Visiting a goat farm might seem like the kind of thing you'd skip when you're short on holiday time, but it's genuinely one of the best things I did on my trip. If you're there in springtime, the newborns are looking for cuddles. And if you visit on a Saturday, sign up in advance for one of the goat yoga classes. The pads of their feet provide a massage, and their loving natures provide nuzzling. Classes always sell out.
Every goat has his or her own personality, but it was easy to fall in love with Honey. Honey greedily drank every bit of milk she could get. I fed her first, mostly because she butted every other goat out of the way to keep a monopoly on the milk. Eventually Marsh gave me a second bottle; since Honey was biologically incapable of drinking two bottles at once, I could spread the love around.
And there's more than just goats on the farm: I fed Paprika the alpaca and her son Chewpaca, as well as Dolly Llama.
Save some room in your suitcase for Marsh's goat milk products. The butterfat content of the milk from her dwarf Nigerian goats is over 80%, which results in delicious homemade feta. She also sells honey, milk and eggs.
Effingham Manor Winery
When I visited Effingham Manor Winery, they were bottling heritage wine in celebration of 400 years of wine-making in Virginia. That tells you how much a part of the state wine making really is.
During the tasting, I enjoyed hearing the story of the Norton, which was a highly popular grape in the 19th century until it was nearly wiped out in Prohibition. Apparently people either love it or hate it: put me in the former camp. And high marks go to the Kings Ransom Reserve that tastes of cherries and vanilla; despite its name, it's definitely affordable for the average traveller.
Effingham Manor was built in 1767 by William Alexander, great-grandson of the man for whom nearby Alexandria was named. The woodwork and doors are still original, as are the floors on the second and third floors. (William Alexander and his wife raised 13 children in this house. How is it even possible that the floors are still in good shape?)
On our way out, we asked if the house was haunted. General manager John Memoli said he's generally a skeptic ("I'm not spiritual, I'm from New York!"), but he believes there's at least one ghost in the manor. Working late at night, he has heard creaking sounds and was convinced he wasn't alone in the house. Others have heard similar things and shared his beliefs. It wouldn't be a surprise if there's a ghost or two, since the property was the site of battles in the Revolutionary and Civil Wars.
Occoquan
The town of Occoquan was first settled by Europeans in the mid-eighteenth century. It was a regional industrial centre, home to Merchants' Mill (one of the first fully automated grist mills in America) and an iron works foundry that produced cannons for the American Revolution.
Today it's a town with beautifully preserved buildings, a small historical museum, and a main street lined with independent shops and galleries.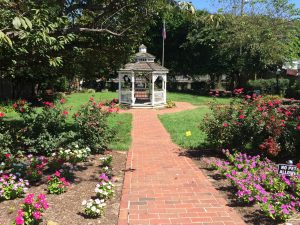 Art a La Carte is operated by the artists who display and sell their work there. When I visited, assemblage artist Karen Rexrode was staffing the shop. Her pieces use everything from old pez containers to an eyelash curler. "The owner of the gallery looks for artists who create something different," she said, "so I feel right at home here."
I asked what inspires her work. "Building assemblage is challenging, especially when you have imaginative ideas but can't find the right components," she said. "There have been times when one piece, one special thrift store item, makes the art." She added that Occoquan is a great town to display in: "We aren't far from the I-95, so quite a few tourists visit. Most come for the quaintness, but stay for the food and art."
Glory Be sells antiques, folk art, and unique hand-crafted items. Owner Marla Cook worked as a painter and artist for years. When a shop in Occoquan "with a great front porch" became available in 2004, she snapped it up. Since then she has sold both her own work and that of other local artists. Her wreaths are legendary, and if you love folk art you'll find it hard to leave the store empty-handed.
I used to say I never ate sweets before lunch. But walking into NazBro Chocolates & Fudge late in the morning put that notion to rest. The owner, Omar Nazarei, encouraged me to sample his fudge – Belgian chocolate, peanut butter, chocolate cheesecake and seasonal pumpkin – and I finally gave in when he suggested the Penuche, made of only three ingredients: butter, brown sugar and cream. With ingredients like that, how can you go wrong? (Spoiler alert: you can't.)
But the real piece de resistance was the selection of chocolate-covered cherries. Dried Bing cherries, with a thick coating of milk chocolate (or dark chocolate, if that's your thing) – they're heavenly. NazBro doesn't ship to Canada, so you'll have to go there yourself to try them.
And if you do go, set aside some time to feed the goats at Little Goat Farm, and to sample the Kings Ransom at Effingham. If you can spend your vacation in Prince William County, you're leading a charmed life, indeed.
Notes: The author visited Prince William County as a guest of Visit Prince William County, Virginia, who did not review or approve this story.
Where to eat:
The Bottle Stop Wine Bar: Occoquan is just off the I-95. Even if you aren't staying for the night, it's a perfect place to pull off the highway for a meal and a walk. Wine is available on tap, by the glass, or by the bottle, and there's a nice selection of craft beers, too. They offer a daily special with a wine partnering. 311 Mill St, Occoquan.