Author & Photo credits: Beth Pollock
A restaurateur's love of and commitment to her indigenous community has blossomed in Winnipeg. Feast Café Bistro serves native food made with local ingredients, hires staff that can't find jobs elsewhere, and is a welcoming space to every customer who walks in.
Feast is the brainchild of owner Christa Bruneau, and while she happily serves everyone, her offerings are particularly geared to indigenous customers. She serves modern dishes rooted in traditional First Nations Foods, focusing on the Three Sisters (corn, squash and beans) that their ancestors traditionally ate.
But Bruneau never imagined she'd open a restaurant.
"I was running a day care centre in Winnipeg's west end and I started to think, 'How can I get these kids to eat healthy food?'" The families of many indigenous children are disconnected from their culture, especially from the food. Bruneau is a member of Peguis First Nation, and her own grandmother was a product of the residential school system, so she understands that loss of connection.
She focused on feeding the children healthy food that was part of their ancestral diets. "Within two weeks of introducing the new food, the children would sit and behave," she said. She began creating new recipes, and collecting old ones from the elders who remembered them. Eventually, she realized her calling was related to food even though, as she says, "I'm not a culinary-driven person, I'm a community-driven person."
Culinary-driven or not, the food was terrific. I went for breakfast, and ordered the omelette with sides of potato squash cake and bannock. It was wonderful, fresh and filling, and very reasonably priced – it's important to Bruneau that her food is affordable for everyone.
The café's mission statement, printed on the front of the menu, reads in part: 'Feast Café Bistro is a First Nation owned and operated restaurant serving dishes inspired by the traditional flavours of this great land.'
"I've seen elders with hair braids walk into the restaurant, eat fried bread, and cry," Bruneau told me. "It connects them to their mothers. Many of them haven't eaten fried bread since before they went to residential school."
Bruneau also gives work experience to people in the community who face barriers to employment: those who have no work experience, are differently abled, deal with fetal alcohol syndrome or mental health challenges, have been brought up in the foster care system or group homes, or have spent time in jail.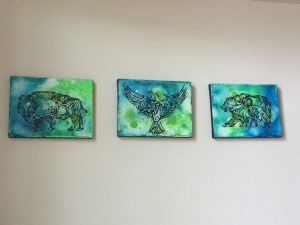 She benefitted by having great mentors when she was in her teens, and she wanted to be that for others. "I've spent fifty hours one-on-one with each employee to love them, believe them, teach them," Bruneau says. "They don't lack the skills, they've just never been taught." When she travels for business, she always takes an employee with her, "so they can have experiences and grow."
Feast serves more than just breakfast, and my mouth watered as Bruneau described some of the dishes she makes: "Roasted butternut-squash bannock pizza with a maple drizzle; bison ribs in a wild blueberry sauce with a wild rice blend; tacos with four kinds of beans, roasted tomatoes and bison (that one has eight indigenous ingredients)."
Why did she name the restaurant Feast? Bruneau says, "A feast represents wholeness, sharing, celebration, family, community, ceremony and love." In other words, everything that Bruneau herself represents. You'll feel great when you eat here, and even better when you think about what Feast supports.
Other great choices for Winnipeg dining
Once you've eaten at Feast, try some of these other excellent food and drink venues that you can only experience in Winnipeg:
Clementine Cafe: Clementine was a semi-finalist in En Route magazine's Best New Canadian Restaurants for 2017. Looking at their menu it's easy to see why: I loved the medium-hot fried chicken on toast, and had just a shade of regret at passing up the Turkish Eggs. Clementine is busy but worth the wait. 123 Princess St.
ERA Bistro: The most popular destination for tourists in Winnipeg is the Canadian Museum of Human Rights. You'll work up an appetite seeing all the exhibits – two hours isn't nearly enough time to see everything – so be sure to replenish your energy at ERA Bistro onsite. If you feel like something sweet, order the Schmoo Trifle, which was inspired by a traditional local dessert, the Schmoo cake. Pastry chef Angela Farkas concocted the Schmoo Trifle from angel food cake, whipping cream, pecans and caramel sauce, just like the original. It was just as good as it sounds. 85 Israel Asper Way.
The Forks: The Forks has been a place to meet and do business for over 6000 years, dating back to indigenous traders. Today, two markets at the Forks offer a variety of shops and places to eat, including wine and beer kiosk The Common. Their wine list is curated by Veronica Rivest, who has twice won Canada's Best Sommelier, and came in second in the 2013 World's Best Sommelier competition. Because of her credentials, she brings in wine that isn't commonly available elsewhere. I was served a wonderful flight of red wines, on a wooden map of Manitoba. 1 Forks Market Road.
Mon Ami Louis: Can't decide whether you want to eat in Winnipeg proper, or the charming St Boniface community just across the Red River? At Mon Ami Louis Brasserie Restaurant you don't have to choose – it's the only restaurant in North America that's located in the middle of a bridge. You'll park on one side of the river and walk across the pedestrian bridge, Esplanade Riel, to get there. Whatever you eat, be sure to order the duck fat fries on the side – they're terrific! 50 Provencher Blvd.
Notes: The author was a guest of Tourism Winnipeg and Travel Manitoba, who did not review or approve this story.